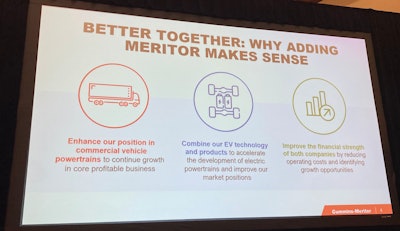 Executives from Cummins and Meritor offered clarity on the aftermarket's biggest acquisition of 2022 last week during Heavy Duty Aftermarket Week (HDAW) 2023 in Grapevine, Texas.
Finalized last August, Cummins' purchase of Meritor sent shockwaves throughout the trucking industry. In the aftermarket, where Meritor has long served as one of the sector's largest and most diverse manufacturers, distributors have waited eagerly to learn how their partnership with the vendor would evolve as it is integrated into Cummins.
During Meritor's annual press luncheon at HDAW, Cummins-Meritor executives Alan Rabadi and Joe Mejaly were excited to unveil the future of Meritor, and how the integration is progressing. The mood was positive.
The duo said they believe Meritor's integration into Cummins is progressing nicely; the two operations complement each other well and stand to both benefit as a single entity moving forward. Rabadi says Cummins and Meritor have long histories as great companies and moving forward the organization believes they can succeed in meeting their tagline of "better together."
[RELATED: HDAW 2023 was a whirlwind. Here's everything you may have missed]
"Customers will win from this integration," says Rabadi, who serves as Cummins' General Manager of Global Aftermarket. Citing enhanced engineering, technological expertise and supplier relationships as just a few areas where the transaction has created a single entity, Rabadi says the combined entity is already a stronger, more nimble operation than the two businesses were last year.
From an operational perspective, Rabadi says Meritor's business will exist within Cummins' Components operating segment, one of five overall business units. The business will be known as Cummins-Meritor at an operating level, but Meritor's aftermarket branding will remain unchanged. Meritor also will maintain its Euclid brand, and both Meritor and Cummins' sales teams and aftermarket product portfolios will see no alterations.
"Our collective field sales team is a differentiating advantage we plan to continue leveraging to maximize customer service," the company says. "We're still evaluating our collective assets and monitoring to see what is best for customers, but at the moment, there are no planned near term changes."
Regarding Euclid in particular, Mejaly says the company hopes to make the established brand "the distributor's private label product line," and says Cummins is committed to sustaining and supporting the brand in the aftermarket. The combined company's decision to maintain both Meritor and Cummins' aftermarket product lines only further confirms that commitment, the company says.
"We will continue to look for opportunity and leverage strengths from both businesses. In summary, we will continue to service the market as we have been," Cummins-Meritor says.
Mejaly, who rejoined Meritor as vice president of North America Aftermarket in 2021 after nine years away, adds he's been impressed by how cautiously and judiciously Cummins is managing the absorption of Meritor's business.
"It has been a pleasure to work with our new friends at Cummins," he says. "They are taking their time to understand the change that's taking place and our business. They are invested in tomorrow."
One place where Cummins' investment is already visible is Meritor's online sales portal. Since the acquisition was finalized, Meritor Parts Xpress (MPX) has experienced increased site speeds, seen an introduction of more than 100,000 part cross references, improved home page visuals and user experience, expanded search options, partnered with OptiCat and more.
"The new, combined company does not initially change the strategy for MPX. We have invested heavily over the years to make this a customer friendly, industry best tool," the company says.
To date there have been no changes to Meritor's distribution center network either, though the company does acknowledge that is an area of the business under evaluation.
"We are currently investigating integration opportunities that improve service levels, and that is our mission moving forward. We are focusing on two areas that benefit customers: saving on cost of operations and servicing customers faster," the company states. "We are investigating opportunities globally to service customers even better. We are still evaluating many opportunities but have not executed on them yet."