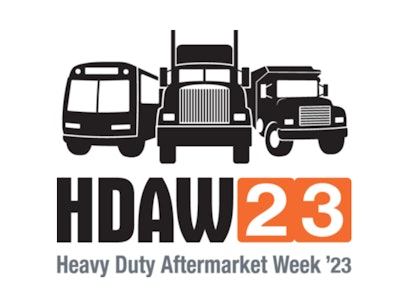 The busiest week of the year for the independent aftermarket has come to a close.
With record attendance, a sold out product expo and 1,800 one-on-one distributor and supplier meetings, Heavy Duty Aftermarket Week (HDAW) 2023 will go down as an all-time great one for the industry.
Trucks, Parts, Service was on hand for the entire event, so whether you were on-site but too busy for every session or you just couldn't make it to Grapevine this year, we are glad to help you catch up on everything you missed.
Preceding HDAW once again was Heavy Duty Aftermarket Dialogue, the joint industry outlook conference from MEMA and MacKay & Company. This year's event featured a number of panel discussions and presentations focused on the current and future trajectory of trucking and its aftermarket.
Early event discussions centered around electrification, automation and how technology will continue to transform transportation. Data also took a central role in the day, with service and telematics data as well as e-commerce and inventory data management earning discussion.
Heavy Duty Aftermarket Dialogue also was home to one of the aftermarket's must-attend presentations, the annual industry status report and outlook from the team at MacKay & Company. This year's presentation shared a healthy mix of caution about the general economy and optimism about the resilience of sales within the aftermarket channel.
[RELATED: Weldon Parts nabs 2022 Distributor of the Year Award]
MEMA's resident beltway expert Ann Wilson followed at Heavy Duty Aftermarket Dialogue with a great discussion about how a polarized Congress is likely to lead to more executive-led policy over the next two years — particularly around vehicle emissions and industry decarbonization.
Dialogue then concluded with a fleet panel where three carriers shared their frustrations and challenges from the past three supply chain fractured years. The carriers were optimistic that the terrible fulfillment challenges they've experienced since 2020 are behind them but also said they hope their vendor partners learn from this experience to make their distribution channels more reliable.
HDAW kept up the busy week at Tuesday's morning opening general session.
Welcoming the largest crowd in history, the session included presentations of the Heavy Duty Aftermarket Hall of Fame award and the TPS Distributor of the Year. Stu MacKay, founder of MacKay & Company, was the deserving recipient of the Hall of Fame induction for his more than 50 years of support for and activity within the industry.
The 21st annual Distributor of the Year award was presented to Weldon Parts. The Oklahoma-based distributor, with its 17 locations across five states, earned the honor over four other wonderful companies — Crossroads Truck Equipment, Franklin Truck Parts, Tidewater Fleet Supply/TNT Parts and Vander Haag's.
Following came SOLD!, also known as Service Opportunities Learning Day, which included three active discussions about industry technology and technician recruitment, retention and education. The first session was a look at powertrains of the future, where OEM representatives shared their predictions (or lack thereof) about the power generation changes that will come for trucking in the next decades.
Next up was a great chat about training, and how independent parts and service providers can no longer be passive about technician education. The panelists were adamant that the future of service success will rely on proper tooling, training and technical expertise. Shops unwilling to invest in any of those areas put themselves at a disadvantage.
SOLD! also turned its attention to industry recruitment, with two successful female technicians urging the audience to be more open to hiring women technicians in their businesses. The panelists said women are capable of thriving in technical roles but are all too often overlooked for those positions. The women said diversity in the service shop is a good thing and can lead to more well-rounded technician teams.
Wednesday's HDAW slate kicked off with Ann Wilson again, who turned her attention to right to repair and the independent aftermarket's struggle for diagnostic information. Wilson said on this topic she's actually more positive about legislative action. She said MEMA intends to introduce the Repair Act with bipartisan support this year and believes access to repair information is one issue where a majority of lawmakers in D.C. could reach a consensus. She also called for support from the independent aftermarket community for the legislation.