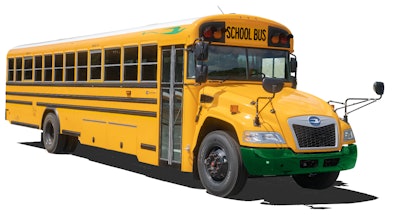 Blue Bird Corporation has welcomed a new dealer to serve its bus customers in South Carolina.
Gregory Poole Bus Sales & Service will now sell and service the full line of Blue Bird and Micro Bird buses in the Palmetto State. Gregory Poole is a third-generation, family-owned business which started to offer Blue Bird buses in North Carolina in 2011.
Blue Bird says the dealership offers a comprehensive line of new and pre-owned school, commercial, and multi-purpose buses for 10 up to 90 passengers. Vehicles range from traditional diesel buses to low- and zero-emission propane, natural gas, and electric powered buses.
Gregory Poole maintains 21 full-service facilities, including in Florence and Charleston, S.C. Bus customers can rely on certified sales, service, maintenance, repair, and parts support staff to ensure the safe and reliable operation of vehicles ranging from individual buses to large bus fleets, Blue Bird says.
"For twelve years we have proudly served hundreds of Blue Bird and Micro Bird customers in North Carolina," says Paul Eberhart, vice president of Gregory Poole Bus Sales & Service. "We are thrilled to expand our service area to include bus buyers in South Carolina. Gregory Poole remains committed to being the dealership of choice for safe, reliable, and dependable Blue Bird buses in the Carolinas."
"We are thrilled to expand our partnership with Gregory Poole," adds Tim Gordon, vice president of sales and marketing, Blue Bird Corporation. "The dealership staff has proven time and again that they deliver excellent service to Blue Bird bus customers in North Carolina. Now Gregory Poole will also serve our valued customers in South Carolina and help meet increasing demand for zero- and low-emission buses in both states."