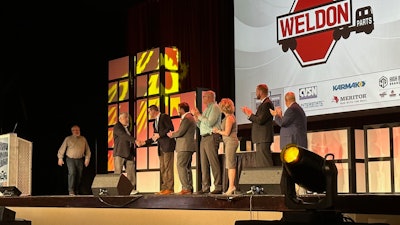 The independent aftermarket and, by extension, the Trucks, Parts, Service Distributor of the Year Award, have long been defined by entrepreneurs. Many of North America's oldest and most successful heavy-duty aftermarket operations have inspirational backstories.
Some were founded in the early days of commercial transportation and evolved with the sector. Others were auto centric or in another industry at first before eventually gravitating to the unique and challenging yet lucrative world of commercial trucking.
Others still started in manufacturing, making some of the components and product lines they continue to stock among their inventories to this day. There are even independent distribution operations that predate motorized transportation entirely — with histories that date back to horse carriages and the Pony Express.
Weldon Parts doesn't go back that far, having been founded in 1955, but the company's origin story is filled with the entrepreneurial hallmarks that make great distributor operations.
[RELATED: In the field expertise key to success at Weldon Parts]
Brothers Leon and Dean Settles started the company as a metal skid manufacturer for the paper industry. Their impetus from the outset was to make a dependable, high-quality product, so the brothers chose the name Weldon to inform their first customers that their products were "well done."
The skids took off, and it wasn't long after the company's founding that the brothers were receiving order requests from other industries.
You can guess what happened next.
Within a decade of its founding Weldon had added a truck parts and service operation. The business was split into two companies in the 1970s — one supporting manufacturing and the other truck parts — before eventually reforming as a truck parts operation in 2011.
Weldon doesn't make paper skids anymore. That business focus faded as its parts business boomed. Like so many of its independent aftermarket contemporaries, Weldon evolved with its customer base. It grew organically yet intelligently, adapting its business to maintain its vitality among those who had grown to rely on its solutions and expertise.
Now led by Leon's sons Dave (president) and Daryle (vice president), Weldon Parts stands as one of the aftermarket's crowning success stories. A multi-generation family business that has grown and continues to thrive due to an entrepreneurial spirit and openness to change.
It also now holds the title of the 2022 TPS Distributor of the Year, having been presented the award Tuesday during the opening general session at Heavy Duty Aftermarket Week 2023 in Grapevine, Texas.
"I'm a bit surprised but honored by this," Settles said. "It's an awesome thing to be recognized by your peers. I'm accepting this on behalf of the 120 people that go to work every day, and I can't wait to take it home to them."
Weldon Parts earned this year's honor over fellow finalists Crossroads Truck Equipment, Franklin Truck Parts, Tidewater Fleet Supply/TNT Parts and Vander Haag's. The 2022 Distributor of the Year Award program was sponsored by the Commercial Vehicle Solutions Network (CVSN), High Bar Brands, Interstate Billing Service, Karmak and Cummins Meritor.
Dave Settles reflects on the success of his family's business with pride.
"We're a family business and we try to live up to that," Settles said last year when interviewed after the company earned its fourth Distributor of the Year nomination (2011, 2016, 2021, 2022). "We're a second-generation business with Daryle and I, yes, but we also have a lot of good people who make up Weldon Parts and I am honored for them that they received this recognition."
Undoubtedly, some of that recognition is due to Weldon Parts' operational excellence. More than 1,500 miles separate the furthest stores in the Weldon Parts 17-store network, making the company one of the largest distributor entities by area of operation in the United States. Running a business that physically isolated requires strong in-store management and industry expertise, which is why the company prioritizes empowerment, worker autonomy and delegation throughout its network.
"I've always been a delegator and when you have a business like ours you have to be. We can't be in every store every day," Settles says. "We give (our branch managers) freedom to run their stores like they are their businesses. Because, in a lot of ways, they are. They best understand their customers and their needs and how to service them."
But that doesn't mean the company's associates work on an island. Weldon Parts has a dedicated training manager who travels throughout the network to provide guidance on corporate processes to leaders and offer necessary product and system training for front-line employees. The business hopes to reinstitute its in-person annual sales and leadership meeting this year after a pandemic hiatus, and it also leverages on-site and online vendor product curriculum to best positions its sales associates. Settles says the latter is something that's grown on him the past few years.
"I've come around on online training. I was not a big fan at first but it's a very efficient way to bring a lot of people up to speed quickly," he says.
And staying informed is essential to Weldon Parts' continued success. Settles says his father and uncle were able to grow Weldon because they cultivated relationships with their customers and listened to them when they suggested or proposed new services. He says the company's 120 associates are encouraged to do the same, with good ideas forwarded up the chain to managers so leadership can consider changes.
"Living in the oil patch, I never try to predict anything," he says. "We try to stay up to speed on what's happening in the market and react quickly when we see changes need to be made."
Across its network, Weldon Parts supports hundreds of vendors and thousands of product lines. Settles says Weldon Parts expanded its vendor base during the recent supply chain crunch to ensure its stores and warehouses remained stocked at all times. The company also remanufacturers brake shoes and offers some service at select locations.
Compared to the company Leon and Dean founded in 1955, the only similarities between Weldon then and now might be the name. But Settles says while the operation may have evolved, its day-to-day focus remains unchanged.
"I think this is going to sound contradictory but at the end of the day we're not doing anything that different than what we did 30 years ago," he says. "This is a fairly simple business. The rules may change and things evolve but, ultimately, our focus is knowing our customers and their needs."