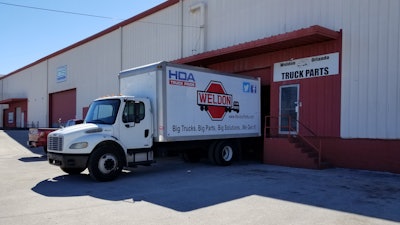 Selling truck parts in the independent aftermarket requires a willingness to accept a variety of customers. Thriving in the aftermarket requires the ability to support all of their individual needs, understanding the differences between private fleets and owner-operators. Service garages and municipalities.
Great distributors know how to monitor a market and proactively support its ebbs and flows. They know how to identify what makes a customer unique and develop stocking and selling procedures to support that customer's needs.
Weldon Parts is no stranger to unique customer segments. With stores stretching from Florida's east coast to the Texas panhandle, few independent distributors cover more square miles. Even fewer distributors have more expertise at what it takes to service any customer, any time.
Thanks to decades of experience in so many different markets and a corporate management structure that drives empowerment and customer-driven decision-making throughout its 17 locations, Weldon Parts is one of the aftermarket's most versatile operations. It is also now a four-time finalist for the Trucks, Parts, Service Distributor of the Year Award, making the list in 2011, 2016, 2021.
President Dave Settles is humble about the recognition.
[RELATED: In conversation with Distributor of the Year finalist Weldon Parts]
The second generation of his family to lead the company (along with his brother Daryle, who serves as vice president), Settles says Weldon Parts isn't a company with a secret sauce or magic wand that drives its continuing success. The distributor's penchant for delegation across its branches has more to do with the miles between each store than anything, along with an awareness that, in the aftermarket, it is the workers on the counter and in the field that have the biggest impact on a customer's experience.

"I've always been a delegator and when you have a business like ours you have to be. We can't be in every store every day," he says. "We give (our branch managers) freedom to run their stores like they are their businesses. Because, in a lot of ways, they are. They best understand their customers and their needs and how to service them."
Settles adds in recent years that autonomy has grown to include some purchasing. While the company still relies on corporate purchasing to manage vendor research, relationship building and pricing, store managers during the supply chain crisis have been encouraged to make expedited purchases when necessary to provide immediate support to pressing customer needs.
Weldon Parts also has enhanced its internal communication processes to better share its inventory status across its network. Pre-pandemic, Settles says the distinct customer bases at each of the company's locations did not require a huge number of store-to-store transactions. But once fill rates began to fall in late 2020, Weldon Parts was quick to bolster its inventory whenever possible and increase its delivery runs between locations. "That gets done a lot these days," he says.
[RELATED: The unending commitment to leadership and personal development at Tidewater Fleet Supply/TNT Parts]
The company also relies on in the field expertise to inform operational decisions. Weldon Parts entrusts store managers to manage hirings, evaluate new sales prospects and suggest product categories and services to add to their locations.
Outside the company, Settles spent several years as chairman of the HDA Truck Pride board of directors, a position that enabled him to connect with many of the industry's vendors and his contemporaries on a regular basis to best understand the shifts in the market.
"We have a lot of friends in the business," he says. "We value all of those relationships."
The 2022 Distributor of the Year program is sponsored by the Commercial Vehicle Solutions Network (CVSN), High Bar Brands' Minimizer and Premier Manufacturing, Interstate Billing Service, Karmak and Meritor.