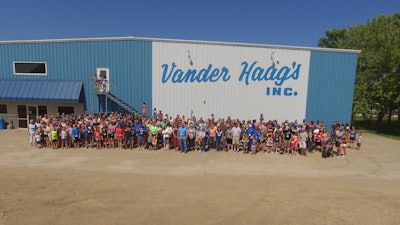 There aren't many aftermarket companies growing as fast as Vander Haag's. Now a TPS Distributor of the Year finalist for the second time, Vander Haag's has changed a lot since earning its first nomination for the aftermarket's highest honor in 2019.
Back then, the Sanborn, Iowa-headquartered company was operating seven locations in four states with a workforce of 280.
A mainstay of the aftermarket since 1939, Vander Haag's has long been a leader in the used, salvage and rebuilt parts sectors and boasts one of the more impressive service offerings in the industry. Coupled with used truck, trailer and heavy equipment sales and a new parts business that is growing exponentially, Vander Haag's goes to market today as one of the most comprehensive solutions providers in trucking's entire service channel.
Customers are taking note.
[RELATED: Vander Haag's announces partnership with ClearFlame Engine Technologies]
Since its 2019 DOTY nomination, Vander Haag's has added stores in Columbus, Ohio, and Louisville, Ky., and more than 85 new associates. It now stands as one of the aftermarket's largest independent distributors by geographic area hopes to become even larger in the years to come.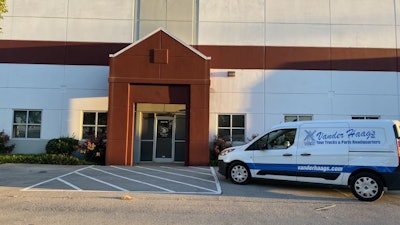 President John M. Vander Haag is thrilled by the growth. The third John Vander Haag to lead the family-owned business, John M. Vander Haag says the company's expansion over the last three years is a testament to the associates it had in 2019 and has since added. Professionals who not only navigated the challenges of the pandemic and its aftermath but also have consistently and impressively added services and furthered customer relationships at a rate that has necessitated expansion.
Vander Haag's is a larger, more dynamic company today because of the people within it.
"For us to be spread out this far geographically is a testament to our people and how well we work together," he says. "Our team members are committed to our business. Everyone understands what we do and works together to help us succeed."
"A lot of our changes have been customer driven," adds Joe McIntire, chief product officer. "Our customer base has grown and they've asked for more for us so we've grown in ways to support them."
[RELATED: In conversation with Distributor of the Year finalist Vander Haag's]
Before entering the Columbus and Louisville markets, McIntire says Vander Haag's hired business development managers to scout the areas and confirm the increased customer engagement they were experiencing from the regions would support new stores. Having people in the markets in advance also enabled Vander Haag's to stock the new locations with the right parts and services at opening, increasing their path to success.
"We don't come into a market and become disruptive to it," says Purchasing Manager Tom Labat. "Competitors respect us for that. We are a friend of the industry. Our focus is on the customer and helping them any way that we can."
Vander Haag's customer focus also is visible in its internal processes. The business uses technology to share parts inventory and customer information across its network to ensure its workforce is informed for any customer interaction. It also has spent the better part of the last two years evaluating and adding vendors to reduce the impact the industry's fractured supply chain has had on its customers, Labat says.
"Vendor expansion has been wonderful for us," he says.
McIntire agrees, adding the company's new locations has helped Vander Haag's bolster its order fulfilment capabilities. "Having the warehouse space has allowed us to add vendors and grow our inventory," he says.
The 2022 Distributor of the Year program is sponsored by the Commercial Vehicle Solutions Network (CVSN), High Bar Brands' Minimizer and Premier Manufacturing, Interstate Billing Service, Karmak and Meritor.