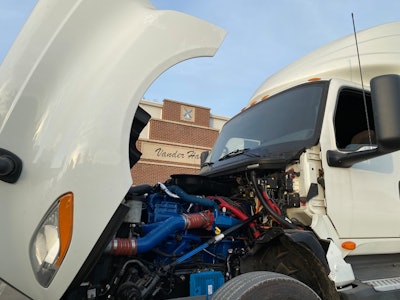 Vander Haag's Inc. has announced a new partnership with ClearFlame Engine Technologies to begin installing heavy-duty truck engines that have been converted with ClearFlame's technology to operate on clean, low-cost E98 ethanol fuel instead of diesel.
ClearFlame, an Illinois-based engine technology company, developed the innovative technology that takes diesel fuel out of diesel engines, empowering rapid decarbonization for hard-to-electrify heavy-duty industries. This cross-industry partnership highlights what is possible when new technologies meet decades of experience and know-how, the companies say.
"Our company is always looking toward the future, seeking solutions that our customers can benefit from. As the transportation industry starts to shift towards decarbonization, we are taking the lead in finding practical solutions that are both cost-effective and easily implementable," says John M. Vander Haag, president, Vander Haag's.
"This partnership demonstrates how Vander Haag's is looking to help implement new technology that is able to utilize existing infrastructure, such as fueling systems and, most importantly, our parts and service facilities. There is also far less training needed to work on engines operating on fuel agnostic platforms, which translates into even greater cost savings for our customers."
Vander Haag's, with nine locations throughout the Midwest, will serve as the vehicle integrator, reinstalling the ClearFlame engines into Class-8 trucks. In addition, Vander Haag's also will leverage their parts distribution network to provide components for the initial integration, as well as ongoing parts support, the company says.