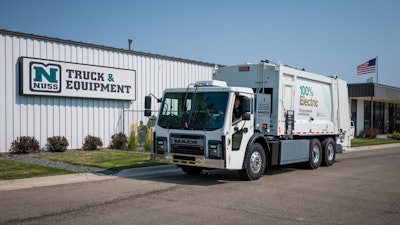 Nuss Truck & Equipment has become a Certified Electric Vehicle (EV) Dealer for Mack and Volvo at its Roseville, Minn., location.
The company is the first Mack and Volvo Certified EV Dealer in the region.
"Mack Trucks is pleased that Nuss Truck & Equipment chose to invest in electrification and to support our customers adding LR Electric refuse vehicles to their fleets," says Jonathan Randall, Mack Trucks senior vice president of sales and commercial operations. "Becoming an EV-certified dealer is a stringent process, and it's no surprise that Nuss would partner with Mack to better support our efforts in sustainability as more and more customers adopt the technology."
"Expanding the adoption of battery-electric trucks into the Midwest, beyond the densely populated East and West Coasts is a big next step to ensure accessibility of sustainable transportation across North America," adds Peter Voorhoeve, president, Volvo Trucks North America. "Minnesota is key location to demonstrate the effectiveness and reliability of the battery-electric drivetrain and components in extreme temperatures, including the cold, snow, and ice of the severe Midwest winters."
[RELATED: Biden approves plan for national EV infrastructure]
Nuss Truck & Equipment is a third-generation, family-owned company that has grown to be one of the largest dealers in the region. The Roseville location is the first of nine planned Nuss Truck & Equipment locations across Minnesota and Wisconsin to be certified, with its other locations anticipated to follow within the next six to 12 months.
"Several Mack customers have expressed interest in the Mack LR Electric, and we wanted to ensure that we were prepared to support them," says Bob Nuss, president, Nuss Truck & Equipment. "The industry is clearly moving toward electrification to reduce emissions and improve air quality, and we are pleased to be a partner with Mack, a leader in this endeavor."
"We have been getting questions from fleet customers about electric truck availability, and Nuss is ideally situated on a major highway in an area with the highest potential for EV truck utilization," adds Greg Nuss, chief operating officer, Nuss Truck & Equipment. "We have made investments in a new state-of-the-art facility, with top-trained staff to ensure that we are ready to assist fleets in the region as they begin their transition to battery-electric trucks."
The Nuss Truck & Equipment Roseville site, located at 2195 W. County Road C2, offers 20 service bays, one of which is dedicated to electric vehicles. The Roseville site has 22 technicians, 12 of whom are master technicians and four of whom are EV-certified.
Nuss chose to first certify the Roseville site because it's located in a major metropolitan area and highway, the company says.