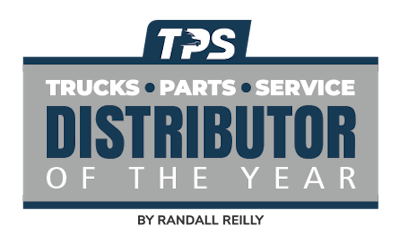 The 2022 Trucks, Parts, Service Distributor of the Year program is underway.
Sponsored by the Commercial Vehicle Solutions Network (CVSN), Interstate Billing, Karmak Meritor and High Bar Brands' Minimizer and Premier Manufacturing, this is the 21st year of the Distributor of the Year program.
After announcing our finalists in July, TPS continues the process of learning more about this year's distributors with a conversation with finalist Vander Haag's. This is the second time Vander Haag's has been a finalist for the DOTY award. The company was a prior finalist in 2019.
The answers below were provided by Joe McIntire, parts department manager.
When was your business founded, and by whom?
Our business began in 1939 in Sanborn, Iowa, recycling old cars and selling parts from them. John C. Vander Haag Jr. returned from Korea in 1955 and began dismantling later model wrecked automobiles for quality recycled automobile parts. Starting in the 1980s we added medium- and heavy-duty recycled truck parts to our operations and then during the 1990s added new and rebuilt parts to our growing inventory. It was also in the early 1990s that we ceased selling automobile parts and also added service departments to our operations.
How many locations do you have? (Please list the cities)
We have nine locations now: Spencer, Des Moines and Council Bluffs, Iowa; Sioux Falls, S.D.; Kansas City, Mo.; Winamac and Indianapolis Ind.; Columbus, Ohio; Louisville, Ky. We also are on the construction phase of our tenth location in Dallas, Texas.
How many employees do you have?
We have grown to over 365 team members
What is your company's value proposition?
Our value proposition is that we are able to offer our customers choices on their parts — used, rebuilt, and new — ultimately saving them money and time allowing them to focus on their profitability.
Do you offer any additional services to complement your parts offering?
We can service and install everything that we sell! Six of our locations have full service bays with the best technicians in the industry and we have the ability to do anything from oil changes to paint and body repairs to frame alternations and truck equipment installation. We also offer a full line of used trucks, new and used trailers, along with being an ASV skid steer dealer and selling used construction equipment.
How do you differentiate your business from your competitors?
I believe our ability to differentiate from our competitors starts with our culture and empowerment of our team members. We encourage our staff to build relationships and be problem solvers for our customers. We offer multiple options for parts, along with being able to install those parts to get them back on the road. Even with supply chain issues our customers trust that we are able get them going quickly and economically.
Why do you believe the heavy-duty aftermarket has nominated you for this award?
We have been focused on providing our customers with solutions to be successful and profitable. This has allowed us to grow and develop great relationships in the industry and provide more opportunities to become involved and continue to help growing the industry as a whole.
Stay tuned next week when we learn more about 2022 award finalist Weldon Parts. And check out these Q&As with other 2022 award finalists Crossroads Truck Equipment, Franklin Truck Parts, and Tidewater Fleet Supply/TNT Parts.