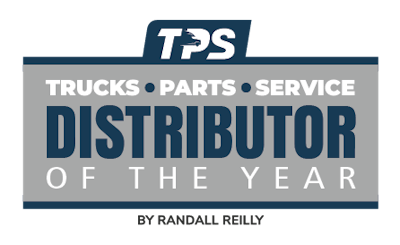 The 2022 Trucks, Parts, Service Distributor of the Year program is underway.
Sponsored by the Commercial Vehicle Solutions Network (CVSN), Interstate Billing, Karmak Meritor and High Bar Brands' Minimizer and Premier Manufacturing, this is the 21st year of the Distributor of the Year program.
After announcing our finalists in July, TPS begins the process of learning more about this year's distributors with a conversation with first-time Crossroads Truck Equipment.
The answers below were provided by General Manager Candy Daume.
When was your business founded, and by whom?
Crossroads Truck Equipment was founded in 1977 by Cletus Bierman and Delmar Shelton. Cletus is still the president and an active employee of the company today.
How many locations do you have? (Please list the cities)
In addition to our three locations in Effingham Ill., we also have facilities in Jacksonville and Decatur, Ill., and Bedford and Vincennes, Ind.
How many employees do you have?
We have approximately 70 employees.
What is your company's value proposition?
To help keep America moving.
Do you offer any additional services to complement your parts offering?
Crossroads Truck Equipment offers parts, but also has three diesel repair shops, one trailer repair shop, and we sell and service industrial and commercial cleaning equipment.
How do you differentiate your business from your competitors?
Hometown service. Hometown value. Hometown pride.
Why do you believe the heavy-duty aftermarket has nominated you for this award?
In recognition of our growth, our principals and our leadership as an independent company supporting the trucking industry.
Stay tuned next week when we learn more about 2022 award finalist Franklin Truck Parts.