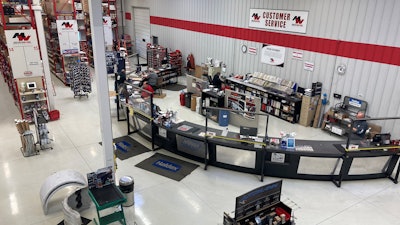 The last year will go down as one of milestones for Midwest Wheel Companies.
In May, the 110-year-old distributor opened a new location in Joplin, Mo., its second store in the Show-Me State. Later that same month the company onboarded a unique, AI-driven parts management solution designed to enhance customer service and reduce order processing time.
Six months after that, the company (along with Vice President of Marketing and Technology Steve McEnany, who led the AI integration) nabbed a national award from Constellation Research for innovation and business transformation for its adoption of the next-generation inventory solution.
The company had a busy summer, too. A new website came online to support the company's digital evolution, President and CEO Michael Callison Jr. was named to the Commercial Vehicle Solutions Network (CVSN) board of directors and, in July, Midwest Wheel earned its fourth nomination for the Trucks, Parts, Service Distributor of the Year Award.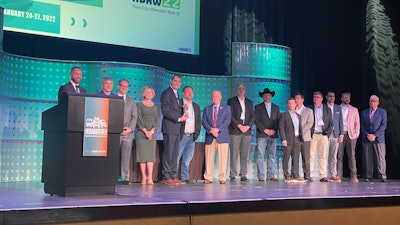 A year like that would be a tough act to follow for any distributor. But Midwest Wheel is already on its way to surpassing it after winning the 2021 TPS Distributor of the Year Award Tuesday at Heavy Duty Aftermarket Week 2022 in Grapevine, Texas. Also winner of the Distributor of the Year Award in 2004 and 2012, Midwest Wheel remains the only multi-year winner in the 20-year history of the program.
In an incredibly competitive field, Midwest Wheel beat out three-time finalist Weldon Parts (2011, 2016, 2021) and first-time finalists Covington Heavy Duty Parts, LASCO Heavy Duty and Mutual Wheel to earn the independent aftermarket's highest honor once again. The award is sponsored by CVSN, High Bar Brands' companies Minimizer and Premier Manufacturing, Interstate Billing, Karmak and Meritor.
"I think as an organization, this feels like it did the first time we were nominated," McEnany says of the company's fourth nomination last year. "We are all thrilled to be recognized by the industry."
"I think it shows we're still making good decisions as a business," adds Callison, "and that our suppliers and our peers recognize that."
[RELATED: All you need to know about our 2021 DOTY finalists: Midwest Wheel Companies]
Midwest Wheel has definitely made big decisions about its operations in recent years. The company's 2021 Constellation Research honor was the result of a multi-year process to improve the distributor's inventory management and customer service that began with the realization it needed to change distributor management systems (DMS) nearly a decade ago. Not long after its 2012 Distributor of the Year Award, McEnany, Callison and Midwest Wheel's prior executive team felt the company had plateaued with its existing DMS and needed to pursue a nimbler system that would keep it at the top of the aftermarket class.
A new provider was chosen in 2014 and the company's transition began in earnest shortly thereafter. The process wasn't without hiccups — Callison jokes how the leadership team wondered back then if it made the right decision in those first few weeks — but as the implementation continued and employee familiarity with the system increased, concern quickly was replaced by excitement and optimism.
"It transformed every part of the company," McEnany says.
"It was a year-long change," adds Callison. "There wasn't any process in our system that wasn't touched in some way. But it made us so much stronger. It enabled us more visibility into our purchasing, ordering … We couldn't have been able to grow into the company we are today without it."
And the company Midwest Wheel is these days is vast. Its new store in Joplin is only its seventh brick-and-mortar facility, but Midwest Wheel's area of operation and influence in the Midwest trucking industry extends far beyond its storefronts. McEnany says more than 30 percent of Midwest Wheel's sales are made online — "I don't think there's any other distributor close to that," he says — and the company's digital presence enables it to serve customers throughout its AOR at any time.
The company also employs more than 250 people, a huge total for an aftermarket distributor, and in recent years implemented an employee stock ownership plan (ESOP) to reward its associates for their commitment to the company and its customer base. The ESOP has helped with employee retention and performance.
"We've done a good job of getting our employees to understand what that means," says Callison. "They understand if the company succeeds, they will succeed too. It motivates everybody."
McEnany adds the ESOP and the company's culture help draw in new people as well. Like every business these days, Midwest Wheel has openings. Yet because the environment within the organization is so strong, many of Midwest Wheel's associates also have become some of its biggest recruiters.
"It says a lot about your company when people apply and you ask how they heard about an opening and they say, 'Well, my friend works here,' or 'I've heard good things about this place,'" McEnany says.
But the company's leadership also recognizes the company will not thrive on good vibes alone. Associates also must be provided product resources and training on how to adapt to changing customer expectations for the operation to remain successful. Callison says Midwest Wheel relies heavily on its supplier base and industry associations to educate its sales staff, and uses its business system, data analytics and market research to uncover product or purchasing trends it needs to address.
[RELATED: Economists offer differing viewpoints on year ahead at HD Aftermarket Dialogue]
During the early days of COVID-19 the company also increased its reliance on virtual meetings to bring branch managers, salespeople and management together weekly and discuss market conditions. Callison says those meetings have been beneficial because they enable the company's frontline associates to convey obstacles they see in the market to leadership quickly and effectively, and increase the speed in which business improvements are made.
Says McEnany, "We want all of our employees, top to bottom, engaged in solving problems … We always want to address things we can do better and we know when we can bring our people and their experience together, we can better attack problems. People buy into new [processes] better if they helped design them."
Employee buy-in also leads to customer satisfaction. And Callison and McEnany say no matter how much Midwest Wheel changes internally, its external focus on superior customer service is one commitment that never wavers.
"We want to be the kind of place where we're always easy to do business with. That's our No. 1 goal — to provide a seamless customer experience to every customer every time," says Callison. He adds that's particularly important when interacting with a new customer, which the company has done a lot over the past year from its new Joplin branch. "If you don't have a great first experience, you're probably not going back," he says.
"It's about being personable and helpful," adds McEnany. "If you know a customer's name, use it … if they buy Part X and you know they also need Part Y and Z, tell them we have those parts in stock. Help solve the customer's problem so when they have another one, they want to come back [to Midwest Wheel]."