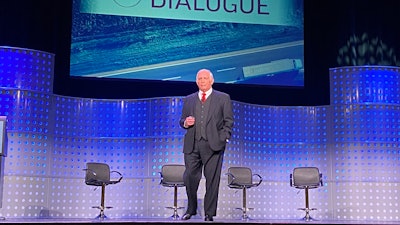 After forecasting a nearly 12 percent bounce back for the Class 6-8 truck and trailer aftermarket in 2021 last January, MacKay & Company reported Monday at Heavy Duty Aftermarket Dialogue in Grapevine, Texas, that its most recent data indicates the industry boomed by nearly 20 percent in the United States last year.
Business was even stronger in Canada and Mexico, where the company's most recent data shows the aftermarket leapt by 23 and 24 percent last year, respectively.
Rising prices had some impact on the industry's boom — MacKay & Company's preliminary data shows price was up 6.7 percent last year — but growing market demand thanks to a still recovering and expanding economy led to most of last year's aftermarket growth. And Blodgett says MacKay & Company's early research indicates the market is strong enough to keep rising (albeit at a slower rate) in 2022.
After seeing aftermarket sales stumble across North America in 2019 before plummeting by double digits in 2020, business rebounded by at least 15 percent in each nation last year. Overall, Blodgett says dealers had a slightly stronger 2021 (up nearly 17 percent with independents up 12 percent in the U.S.) and together the channels are tracking to be up more than 9 percent for the U.S. with Mexico and Canada up 8 percent in 2022.
[RELATED: Catch up on our four-part in-depth market report]
The biggest concern MacKay & Company has found from its industry surveys and correspondence is the omnipresent parts shortage. More than 90 percent of surveyed dealers and distributors are experiencing major parts availability and delivery delays. In situations in which customers requested a part an aftermarket distributor didn't have, Blodgett says MacKay & Company survey data indicates nearly half (44 percent) of customers are choosing to wait an unknown amount of time until their part finally arrives, as opposed to choosing another branded part on hand (20 percent) or enabling their distributor to source their desired part from another location (25 percent).
As for the greater economy, Monday's experts were mixed on what to anticipate in the month's ahead.
Bob Dieli with MacKay & Company says his research and Truckable Economic Activity (TEA) indicator seem to show an economy that has moved from its most recent recession back into a period of economic expansion in record time. He says the U.S. economy has never experienced such a profound and sudden shift in either direction, which makes it hard to fully anticipate what's ahead. But using TEA as guidance and his Enhanced Aggregrate Spread as a forecasting tool, Dieli says it's possible the economy could be in or approaching another boom phase.
"We may have some sort of unpleasantness ahead of us in the next 12-18 months," he says. "It is best still to take a more cautious approach to what's ahead."
Dieli says four factors he intends to use to monitor the economy are inflation, housing starts, freight rates and trucking employment. He says if any of those factors go sideways that will be concerning and if multiple go awry at one time a slowdown could be imminent. And though Dieli doesn't anticipate anything as severe as the second quarter of 2020 could occur, he also notes that until the nation moves further past COVID-19 and solves its public health crisis, that it will be hard for the national economy to return to any semblance of normalcy — despite everyone's desire to see just that.
Monday's financial segments also included a more optimistic presentation by RSM Deputy Chief Economist Kevin Depew and brief Q&A with Depew and Dieli. Depew began his presentation by asking event attendees to rate the current economy. Though few people raised their hands and said they view the economy favorably, Depew said there are many factors within the U.S. economy that are actually quite strong. The problem, he says, is the ongoing pandemic has clouded people's judgement about how strong the economy really is.
[RELATED: Industry panel give 'real world' view of supply chain at HD Aftermarket Dialogue]
Citing strong GDP growth projections, falling unemployment and rising incomes levels, and mid- but not high-inflation levels, Depew says there's a different economy unfolding than most people can see.
"We're still engaging in robust economic activity, but it doesn't feel great. It's not going to feel like that forever," he says. "People will be surprised by how quickly the goods inflation levels will start to recede. Particularly once we get to the endemic stage" of the pandemic.
In a world where it's so easy to be bombarded by bad news, Depew says it helps to illustrate things that are going well. He mentions strong business investment, innovation and a mend of the urban vs. rural national divide (due to a more even pandemic recovery and housing shifts) are clearly good things for the American economy. Wage growth for the bottom two quintiles of the economy also are outpacing higher income sectors, while the latter 60 percent of households have seen their balance sheets improve. Depew says other potential positives could be reductions in healthcare spending (as a percentage of GDP) and, maybe, a lessening of political polarization. He acknowledges the latter is speculative but says other peak polarization moments in American history have generally been followed by periods of collaboration.
During his Q&A with Dieli, Depew also noted the economy appears capable to withstand higher interest rates. "The Fed increases interest rates when the economy is performing well," he says.
As for the labor market, which was touched on in Monday's morning session and remains a major challenge for employers, Depew says the worker shortage will remain persistent but advancing labor-replacement technology could help businesses maintain production levels without adding more workers. He also thinks young men who have invested heavily in crypto currencies may return to the labor market if their digital wallets take a hit in the coming years.