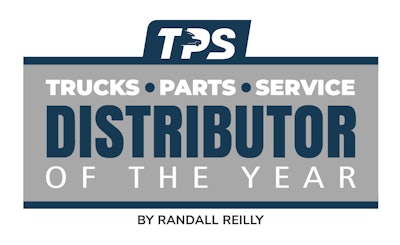 There will be a new business added to the illustrious list of Trucks, Parts, Service Distributor of the Year Award winners at Heavy Duty Aftermarket Week next January.
Crossroads Truck Equipment, Franklin Truck Parts, Tidewater Fleet Supply/TNT Parts, Vander Haag's and Weldon Parts have been nominated as finalists for the 21st annual award, sponsored once again this year by High Bar Brands' Minimizer and Premier Manufacturing, Meritor, Karmak, Interstate Billing Service and the Commercial Vehicle Solutions Network (CVSN).
This year's group is an impressive collection of aftermarket stalwarts — many of which are familiar with the Distributor of the Year Award program.
[RELATED: Midwest Wheel Companies wins 2021 Distributor of the Year]
Franklin Truck Parts was previously an award finalist in 2007; Tidewater Fleet Supply/TNT Parts were finalists as individual organizations in 2004 and 2011. Vander Haag's was a finalist for the first time in 2019; and Weldon Parts is a three-time prior finalist (2011, 2016, 2021). Crossroads Truck Equipment is the only finalist participating in the program for the first time, though the Illinois-based distributor's history and seven-location area of operation is on par with its 2022 finalist contemporaries.
Read our annual business questionnaires from this year's finalists:
"Every year we ask the aftermarket who deserves recognition as our industry's best and brightest and every year the industry comes through. We have a phenomenal list of finalists for this year's Distributor of the Year Award," says TPS Editor and Content Director Lucas Deal. "With finalists from across the United States, we are eager to learn about how these companies continue to navigate the tough challenges of our industry and their markets.
"We are extremely grateful to the independent aftermarket community at large for their support in nominating these businesses and look forward to sharing their stories with our industry."
More than two dozen aftermarket operations were nominated for the 2022 Distributor of the Year Award through a three-month open nomination period on the TPS website. This year's finalists represent the five distributors who received the most individual nominations (68 total) during our three-month period. Among all 2022 nominees, eight were prior Distributor of the Year winners and six were prior finalists. Three nominees also hailed from outside the United States (two from Canada and one from Mexico).
TPS will reveal more about our 2022 Distributor of the Year finalists in the months ahead and will present our 21st award next January at Heavy Duty Aftermarket Week in Grapevine, Texas.