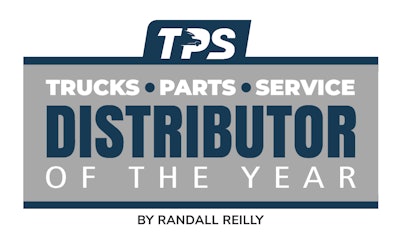 The 2022 Trucks, Parts, Service Distributor of the Year program is underway.
Sponsored by the Commercial Vehicle Solutions Network (CVSN), Interstate Billing, Karmak Meritor and High Bar Brands' Minimizer and Premier Manufacturing, this is the 21st year of the Distributor of the Year program.
After announcing our finalists in July, TPS continues the process of learning more about this year's distributors with a conversation with finalist Franklin Truck Parts. This is the second time Franklin Truck Parts has been a finalist for the DOTY award. The company was previously featured in 2007.
The answers below were provided by President Greg Franklin.
When was your business founded, and by whom?
We were founded 1956 by my grandfather, Louis Franklin and my father, Larry Franklin.
How many locations do you have? (Please list the cities)
We have nine locations. Oxnard, Lancaster, Pacoima, Carson, City of Commerce, Walnut, Fontana, Victorville and Indio, Calif.
How many employees do you have?
We have 70 employees.
What is your company's value proposition?
Franklin offers product availability, competitive prices and name brand products.
Do you offer any additional services to complement your parts offering?
We offer several other services in addition to parts including driveline rebuilding and balancing, hydraulic press work, making custom U-Bolts, brake drum and rotor turning, resurfacing flywheels and brake shoe relining, steering box rebuilding, steering axle and spindle resleeving.
How do you differentiate your business from your competitors?
We find ourselves going the extra mile to take care of our customers and we treat them like family. Franklin is known to have one of the largest inventories in the area, old and new.
Why do you believe the heavy-duty aftermarket has nominated you for this award?
After 66 years in business, we have a long history with the manufactures we chosen to work with. Franklin Truck Parts is old school. Any manufactures rep that has been to one of our locations is always amazed at the size and breadth of inventory and the knowledge of all employees. If we don't have what you are looking for, we can usually make something work.
Stay tuned next week when we learn more about 2022 award finalist Tidewater Fleet Supply/TNT Parts. To learn more about last week's featured business Crossroads Truck Equipment, please CLICK HERE.