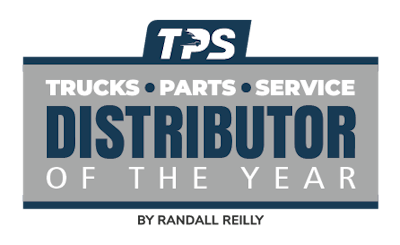 The 2022 Trucks, Parts, Service Distributor of the Year program is underway.
Sponsored by the Commercial Vehicle Solutions Network (CVSN), Interstate Billing, Karmak Meritor and High Bar Brands' Minimizer and Premier Manufacturing, this is the 21st year of the Distributor of the Year program.
After announcing our finalists in July, TPS continues the process of learning more about this year's distributors with a conversation with finalist Tidewater Fleet Supply/TNT Parts. This is the third time Tidewater Fleet Supply/TNT Parts has been a finalist for the DOTY award. TNT Parts was a prior finalist in 2004; Tidewater Fleet Supply in 2011.
The answers below were provided by President Dale Herold.
When was your business founded, and by whom?
Tidewater Fleet Supply was founded in 1953 as Tidewater Batter Supply, operating from a single location in Chesapeake, Va., focused on marine and agricultural products. From its earliest days, exceptional customer service and deep product knowledge have been hallmarks of Tidewater's business philosophy. Over time, the company expanded to become a multi-line warehouse distributor focused on mixed duty vehicle and equipment fleets and service/maintenance customers with seven locations across Virginia.
Tidewater Fleet Supply was owned by the Darden-Parrott families prior to being recapitalized and acquired by current ownership in 2014.
TNT Parts' roots can be traced back to the early 1980s. Officially founded in 2000 in Atlanta by Greg Woods, TNT Parts Inc. was acquired by TFS in 2016. Like Tidewater Fleet Supply, TNT Parts shared a deep commitment to customer service and unmatched product knowledge in the over the road truck and trailer segments. In 16 years, TNT Parts expanded across the Southeast, with three locations in Georgia, one in North Carolina and one in Florida, expanding to eight locations.
Most recently, D&J Supply, a family owned (Jeff and Dan Schubach) and operated business for over 45 years in east Atlanta, joined Tidewater Fleet Supply/TNT Parts in June 2022.
How many locations do you have? (Please list the cities)
We have 16 locations: Norfolk, Richmond, Newport News, Chesapeake (two locations) and Hampton (two locations), Va.; Forest Park, Garden City, Dublin, Lithonia and Buford, Ga.; Charlotte, N.C.; Pelzer, S.C.; Jacksonville and Orlando, Fla.
How many employees do you have?
We have more than 200 employees.
What is your company's value proposition?
Be best-in-class operator and industry leading aftermarket distributor of truck replacement parts and supply for fleet owners, vehicle operators and repair shops in our local markets.
Do you offer any additional services to complement your parts offering?
We offer trailer parts, custom made battery cables and hydraulic hoses, flywheel resurfacing, drums and rotors turned, delivery services, technical training, outside sales and ASE parts pros.
How do you differentiate your business from your competitors?
We provide a vast catalog of parts — from hundreds of product lines —to thousands of customers across the Southeast and we continually outpace the competition by providing distribution efficiencies and advantages, which we achieve by having our stores and distribution centers strategically located. We believe our people are our secret sauce. Our team is extremely knowledgeable and we partner with customers to help them get what they need, when they need it.
Why do you believe the heavy-duty aftermarket has nominated you for this award?
We are changing our industry from the inside out. Tidewater Fleet Supply/TNT Parts has created a purpose-driven culture in aftermarket distribution that sets it apart from competitors for both employee satisfaction and customer service. We take our mission seriously that "People are our most important parts." We are leaders developing leaders.
Our dedication to a personal development journey has provided us a deeper understanding of our values, personality, needs, habits and emotions, and how they affect our actions and the actions of others. This has enabled us to be better able to manage our stress, make better decisions and ultimately lead others to do the same. Positive results have shown up at home and at work benefiting our team members in the form of trust, integrity, fairness, transparency, and accountability. Business performance has improved in multiple areas: teamwork, M&A integration, new locations, new distribution centers and sales and margin growth.
Stay tuned next week when we learn more about 2022 award finalist Vander Haag's. And check out these Q&As with other 2022 award finalists Crossroads Truck Equipment and Franklin Truck Parts.