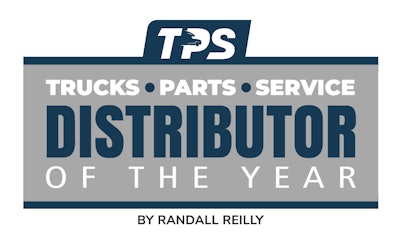 The 2022 Trucks, Parts, Service Distributor of the Year program is underway.
Sponsored by the Commercial Vehicle Solutions Network (CVSN), Interstate Billing, Karmak Meritor and High Bar Brands' Minimizer and Premier Manufacturing, this is the 21st year of the Distributor of the Year program.
After announcing our finalists in July, TPS continues the process of learning more about this year's distributors with a conversation with finalist Weldon Parts. This is the fourth time Weldon Parts has been a finalist for the DOTY award. The company was a prior finalist in 2011, 2016 and 2021.
The answers below were provided by President Dave Settles.
When was your business founded, and by whom?
In 1955 by Leon and Dean Settles.
How many locations do you have? (Please list the cities)
We have 17 locations. Oklahoma City, Tulsa, Muskogee, McAlester, Clinton, Elk City and Woodward, Okla.; Little Rock, Ark.; Orlando and Jacksonville, Fla.; Houston, Dallas and Perryton, Texas; North Bend, Omaha, Grand Island and Norfolk, Neb.
How many employees do you have?
We have around 120 employees.
What is your company's value proposition?
We focus on providing customers help in running their businesses.
Do you offer any additional services to complement your parts offering?
We remanufacture brake shoes. Our Clinton, Okla., store installs tarps.
How do you differentiate your business from your competitors?
Our stores tend to be small. We use this fact to be closer to customers and flexible as to how we approach each market. We work on leveraging our size and our HDA Truck Pride membership to bring services and efficiency.
Why do you believe the heavy-duty aftermarket has nominated you for this award?
I don't know why we were nominated but we are honored by it.
Did you miss our other Distributor of the Year Q&As? You can find them here! Crossroads Truck Equipment, Franklin Truck Parts, Tidewater Fleet Supply/TNT Parts and Vander Haag's. These businesses will be featured again with company profiles on TPS in the months ahead, leading up to the 2022 Distributor of the Year presentation Jan. 17, 2023, at Heavy Duty Aftermarket Week.