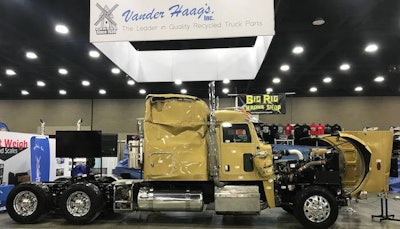 Few businesses that have earned a nomination for the Trucks, Parts, Service Distributor of the Year Award have been as diversified as Vander Haag's.
In attempting to summarize the company's 80-year history, President John M. Vander Haag — the third John Vander Haag to lead the operation — pauses for a moment to gather his thoughts. He says the company's story is long and winding. Its growth from a salvage yard in rural Iowa into a four-state operation with more than 280 employees is a tale he could spend an hour telling.
Vander Haag wants to hit the highlights but he also doesn't want to forget anything. "It's kind of tough to put into a paragraph," he says.
Doing so in one page isn't much easier, but here goes.
Vander Haag's Inc. was founded as a salvage yard in Sanborn, Iowa, by John C. Vander Haag Sr. in 1939. The elder Vander Haag opened the business in hopes of alleviating the challenge Northwest Iowa's growing vehicle population was facing in acquiring quality replacement parts due in equal part to the Great Depression and the production demands of World War II.
John C. Vander Haag Jr., M's father and Sr.'s son, joined the business in 1955 and soon helped expand the company's product offering to include new and rebuilt parts. By the late 1960s Vander Haag Jr. had moved the business to Spencer, Iowa, and a few years later he started shifting the company's focus away from the auto industry and exclusively into the heavy-duty space.
Expansion followed, both geographically and operationally, as Vander Haag's steadily added locations and services in Iowa before eventually entering the market in South Dakota, Missouri and Indiana.
Today the business is a full-line distributor of new, re-cycled, rebuilt and remanufactured truck and trailer parts, offers comprehensive drive-in and installation services and sells used trucks and trailers across seven locations.
"We feel with our large selection of parts and the services we offer that we've become a true one-stop shop for all of our customers," says John M. Vander Haag. "I think because of our salvage and rebuilt operations, specifically, we're able to offer a selection of parts that's considerably different from a lot of our competitors in the industry."
There are other ways in which Vander Haag's stands out in the aftermarket as well. In building the company's workforce, John M. Vander Haag says his leadership team "hires for character and trains for skill." New associates are educated on the company, its values and its commitment to its customers before being routed into full-time positions and, in situations in which one employee's skills or professional desire evolves, Vander Haag says the business will work to move that employee into a position that best fits his capabilities.
"We work hard to engage with our team members each day and make sure they understand where they fit in the company and in relation to our customers," he says. "We want them to feel connected to the team and a part of the business. We want them to enjoy what they do."