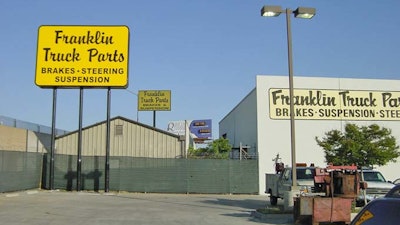 A multi-generational commitment to customer satisfaction and an openness to meet any challenge head on continues drives success for Franklin Truck Parts.
Since its opening by Louis Franklin in 1956, the company now known and recognized as one of the West Coast's preeminent independent aftermarket distributors has remained on top of a densely populated, competitive urban market for decades by never overlooking or overcomplicating the basics of aftermarket success. Franklin Truck Parts is defined by an expansive product inventory, wide selection of in-house services and an experienced, veteran sales team, says third-generation owner and President Greg Franklin. And Franklin says the company leans on those experts and its internal resources to ensure Franklin Truck Parts can provide the right parts and solutions its customers each and every day.
It's a solid strategy that's helped the business grow to operate nine locations across California, employ more than 70 associates and, for the second time in its history (2007), be named a finalist for the Trucks, Parts, Service Distributor of the Year Award.
Franklin says he and his team are humbled by the recognition but when asked to describe the culture that leads to such consistent excellence, he hesitates. Franklin says his business doesn't have a creed or motto on the wall; there isn't a slogan that defines every aspect of the company.
[RELATED: In conversation with Distributor of the Year finalist Franklin Truck Parts]
Franklin Truck Parts is a warehouse distributor. It knows its customers and its vendors and relies on the latter to source the parts necessary for the former to succeed, Franklin says. "We buy parts, we sell parts. We take care of the people who rely on us," he says.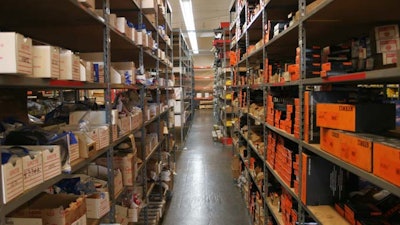 "Corporate culture … we just don't focus on that. It's not an everyday discussion," he adds. "We stick to focusing on the demands of the customer and what they need right now."
He says the company does that by developing strong bonds with its customer base. Many associates across the Franklin Truck Parts network have been with the company a decade or more, and Greg Franklin says he, his father (Larry) and grandfather have always encouraged their employees to get to know the people and equipment they're servicing.
Franklin says it doesn't matter whether a customer has one truck and trailer or 500, at the end of the day their needs are still the same — they have a unit down and need to fix it. Franklin Truck Parts understands how dire those situations can be and Franklin says his team uses a personal touch when assisting customers to make them feel welcome, understood and heard.
"We make eye contact. Say hello. Shake his hand. 'How are you doing? What's going on?'" he says. "The comfort is there [for the customer.] The security of knowing we can help them at any of our locations."
[RELATED: In the field expertise key to success at Weldon Parts]
Franklin Truck Parts' operation is impressively diversified. Beyond its large inventory, which Franklin touts as one of the best — "We have over 15,000 active SKUs at any given time," he says — the company also provides driveline rebuilding and balancing, hydraulic press work, makes custom U-Bolts, offers brake drum and rotor turning, resurfaces flywheels, relines brake shoes, rebuilds steering boxes, re-sleeves steering axles and spindles and more.
The company also is known for its market responsiveness. Franklin gives the example of company's early investment in air disc brake components. "We knew it was coming and we were not afraid to invest and put some product on the shelf so we could say, 'Yes, we've got that,' instead of 'It's coming. I'll have it a month or so,'" he says.
The 2022 Distributor of the Year program is sponsored by the Commercial Vehicle Solutions Network (CVSN), High Bar Brands' Minimizer and Premier Manufacturing, Interstate Billing Service, Karmak and Meritor.