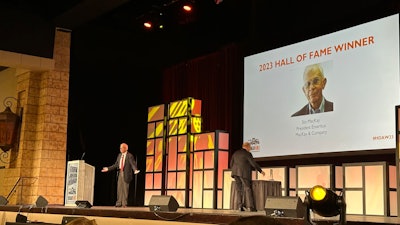 Two major awards were handed out Tuesday morning at Heavy Duty Aftermarket Week (HDAW) 2023 in Grapevine, Texas.
Weldon Parts nabbed the 2022 Trucks, Parts, Service Distributor of the Year Award, and Stu MacKay was recognized for his career in the industry and named to the Heavy Duty Aftermarket Hall of Fame.
[RELATED: Weldon Parts wins Distributor of the Year]
Retired Heavy Duty Manufacturers Association President and COO Tim Kraus announced MacKay as the industry's 2022 inductee.
"He helped many of us make major decisions, making or saving millions of dollars for our companies," Kraus says.
MacKay entered the trucking industry as a summer trainee dispatcher in 1956 for Red Star Freight Lines in upstate New York. After graduating from Cornell and Dartmouth, he started MacKay & Company in 1967. MacKay was also helped found and operate HDAW and found the Heavy Duty Aftermarket Dialogue.
"He represents the best of what this industry has to offer," Kraus says.
Kraus presented the award to MacKay.
"I'd like to welcome you to this exclusive club," Kraus said, handing him the award. "We'll send this to your office. We promise not to break it along the way."
"Then send it by truck," MacKay quipped.
MacKay was fresh off of a trip to Antarctica.
"This is two bucket list items in one week," he says.
He thanked his family and his clients, and said that many of those clients are also his friends.
"That's what's made it really worthwhile," MacKay says. "We're in the numbers business, the company's in the numbers business, and we spend a lot of time gathering the information and making it meaningful. But the think that really makes it is the people. I can't think of a better business environment in which to operate."