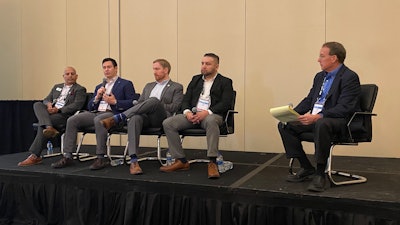 For anyone who attended the "Heavy Duty Powertrains of the Future" session that kicked off SOLD! at Heavy Duty Aftermarket Week (HDAW) Tuesday looking for a definitive answer as to what commercial trucking equipment will look like in 20 years, Cummins' Saad Malik was quick to tell the audience the answer they sought didn't exist.
Trucking is changing. It's always changing. The new technologies, powertrains and fuels becoming available to truck buyers could upend the diesel industry one day. But Malik says that day isn't tomorrow. Or a year from now. Or even 2025.
He also says if you asked he or his fellow panelists to guess how (and when) the market will eventually shift, the five of them would have "10 different answers … and everything we predict is going to be wrong."
Long story short, the panelists admitted powertrains are going to evolve, but gradually. Trucking will adopt at the pace its customers accept. New powertrains will gain acceptance in duty cycles and equipment where they make financial sense and offer real TCO advantages. Government mandates and regulations, developed by the EPA or CARB, will influence the market but will not be the genesis for every industry shift.
[RELATED: Weldon Parts wins 2022 Distributor of the Year]
The panel says when medium- and heavy-duty truck buyers eventually start buying these new powertrains en masse, it will be because they want to buy them.
"There isn't a silver bullet on which engine or technology is going to win in the end," says Malik, who joined Cummins through its purchase of Meritor. "They will all have areas where they make sense."
Electric powertrains have a great use case for buses and regional markets where miles driven are low and charging can be done at a central terminal, says Blue Bird's Britton Smith. He adds hydrogen isn't as likely in the bus market because the advantage it provides as range extender isn't necessary in an application where a vehicle runs the same route each day.
But hydrogen does offer other benefits.
Like natural gas, it can be stored as liquid or gas and from an infrastructure standpoint it's a quicker refueling process than EV charging, says Hyliion's Jason Schieck. Developing a hydrogen fueling network also may be an easier lift than national charging grid because of its similarities to diesel stations.
And infrastructure matters too. Multiple panelists said they believe the largest barrier to large scale adoption for alternative powertrains in the next five to 10 years is likely post-sales support, not sticker shock. The government wants these technologies to succeed and is willing to offer financial assistance to get them into fleets. But carriers won't buy a truck they can't maintain.
Additionally, maintenance for each new powertrain requires another level of technical expertise. Fresno Unified School District Heavy Duty Truck Instructor Eric Rubio says his program has acquired some vehicles with these new technologies to show its students how service operations will need to evolve. Like his fellow panelists, Rubio says he believes technology adoption will be led by customer TCO and says proactive service shops that want to remain good partners with their customers should be communicating with them now to understand what technologies they may consider tomorrow or later in the future.
"Is this going to change your business in three to five years? Probably not, but we have to start learning about it now," says Malik. "We don't know what we don't know."
Adds Schieck, "There's an appropriate solution for every problem and they're not going to be the same."
And diesel isn't heading for extinction either. The panelists say trucking OEMs and their Tier 1 suppliers remain committed to continuing to decarbonize modern diesel engines and create products that can meet federal and state emission regulations for decades to come.
"There will be electric in the future and our hope is diesel continues," says Smith.