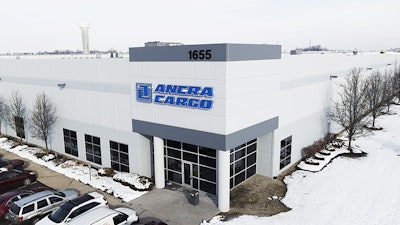 Ancra Cargo has relocated its North American headquarters from its previous location at 2685 Circleport Drive, Erlanger, Kentucky, to its new facility located at 1655 Worldwide Blvd., Hebron, Kentucky.
Ancra says its new building features interior design elements using Ancra products and is over 150,000 sq.-ft., doubling its previous inventory space. The facility contains 31,000 sq.-ft., of an expanded office, which allows for a state-of-the-art research and development center, an expanded quality control department for product testing and inspection and a professional multi-media production studio.
The facility also features a robust machining and assembly area that manufactures products such as track for decking systems, military products, straps, beams, roller floor systems, and much more, the company says.
"We are excited to do business in our new, larger office in Hebron," says Larry Bethel, Ancra Cargo President. "This move represents another significant milestone for our fast-growing cargo securement business. The new office space better accommodates our growing team and enables us to attract world class talent that will enhance our already industry-leading support and service to our customers. The increased space will also help drive innovation and provide the opportunity for further expansion into industry technologies."
The new location, five miles from its previous facility, reflects the innovative culture at Ancra and strives to make it a great place to work for employees with a GSD (Get Securement Done) attitude, the company says. The space includes technology-enabled conference rooms, collaboration zones, a premium lounge for truck drivers, enhanced security, green spaces for employee engagement events, and, most importantly, space to grow.
"Today's ribbon-cutting of the Ancra Cargo expansion is a big milestone for Boone County. The economic investment in our community will help those who call Boone County home and our entire business community. With the creation of 100 jobs, this expansion will allow those looking for work to get back into the workforce and support themselves and their families," says Kentucky Representative Marianne Proctor (R).
State Representative Kim Banta (R) also adds, "Economic investment in our community not only helps those find jobs, but it will help grow the entire business community in Boone County. This expansion of Ancra Cargo will open up 100 jobs for those in the area and help people get back into the workforce. I am excited to see how the expansion will benefit our community and grow our economy."