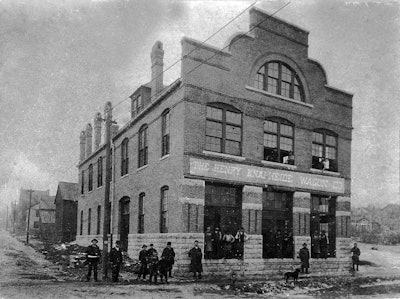 Knapheide
The Knapheide Manufacturing Company will celebrate its 175th anniversary this year, marking nearly two centuries as a family-owned and -operated business in Quincy, Illinois.
In 1848, Herman Heinrich Knapheide, a German immigrant, moved to Quincy and opened a wagon-making shop, the Knapheide Wagon Company.
The business was incorporated in 1893 as the "Henry Knapheide Wagon Company." By 1937, the company's focus had shifted from wagons to automotive bodies. To reflect the change, the company was renamed "The Knapheide Manufacturing Company."
Knapheide began vehicle upfitting in the 1910s with the Ford Model T. The company later became known for its grain bodies, tailored for agriculture. The crash of the agricultural market in the 1980s forced the company to pivot again, this time towards services bodies, which continue to contribute to the company's success under H.W. "Bo" Knapheide IV, the sixth-generation leader of the company.
"This anniversary provides us an opportunity to look back, celebrate our past and appreciate how far we've come," says Bo Knapheide. "I am proud to be a part of the dedication and determination that has taken place over the decades to get us to where we are today."
In celebration of its 175th year, Knapheide will showcase its heritage display at the NTEA Work Truck Show in March and host a special company picnic in September.
Knapheide continues to provide customers with high-quality, work-ready transportation solutions and ranks as the nation's leading manufacturer of truck bodies and provider of commercial vehicle upfitting. Knapheide's industry-leading truck bodies and truck beds are backed by the largest and most dependable distribution network in the industry. The company says its comprehensive and innovative selection is well-suited for commercial agricultural, construction, electrical, HVAC and plumbing vehicles, among other vocations.