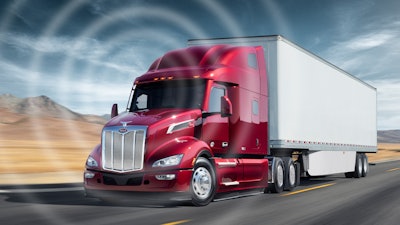 Peterbilt and Kenworth announced Thursday they will develop a new ecosystem of connected products for their vehicles. The initiative will be under the umbrella of the cooperation agreement recently signed between Platform Science and the brands' parent company Paccar.
According to the companies, the new services will leverage Platform Science's Virtual Vehicle platform that enables customers to access fleet management functionality, ELD capabilities, truck-specific navigation and third-party applications directly from their vehicles.
"Today's customers demand the highest level of uptime and complete integration with their existing fleet management solution," says Jason Skoog, Peterbilt general manager and Paccar vice president. "SmartLINQ and the Paccar Solutions portal have provided a solid foundation to build this next-generation solution."
"With Virtual Vehicle, truck buyers can eliminate barriers to innovation, production, and safety and customize in-cab experiences with technology solutions that best meet their needs," adds Jack Kennedy, co-founder and CEO, Platform Science. "For more than 80 years, Peterbilt has built world-class vehicles that maximize safety, performance and uptime, combining innovative technology with enduring craftmanship. We are proud to collaborate with their team to integrate the Virtual Vehicle platform into their trucks and deliver the most cutting-edge truck technology to meet their customers' every need."
He adds, "Kenworth is a long-time leader in designing, developing and manufacturing world-class transportation solutions, and we are proud to collaborate with their team to integrate this platform into their medium and heavy-duty trucks."
The Platform Science ecosystem will eventually allow for third-party apps to be downloaded and managed remotely or directly on the truck interface, eliminating the need for costly and time-consuming after-market hardware wiring and installation.
"The new services will leverage the existing connectivity solutions of our heavy- and medium-duty truck platforms" adds Bart Lore, senior director Global Connected Services. "Thanks to the new app ecosystem, Peterbilt vehicles will take a quantum leap integration to existing fleet management solutions."
Peterbilt says the new suite of services will launch in 2024 with Class 8 Models 579 and 567 and the medium-duty Models 548, 537, 536 and 535. Multiple service packages will be available depending on the truck model and intended application.
Kenworth adds new suite of services will launch in 2024 for Kenworth's Class 8 T680, T880 and W990 models and medium-duty T180, T280, T380 and T480 models.