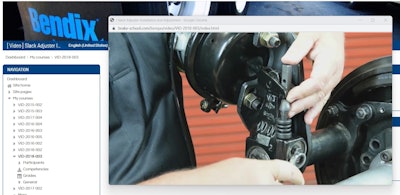 Bendix On-Line Brake School is celebrating 10 years in operation in 2023.
The online curriculum now offers more than 100 courses, delivering expert, accessible instruction and technical education to the trucking industry. Brake-School.com serves nearly 150,000 registered users, reaching drivers, technicians, distributors, fleet personnel, owner-operators, and others responsible for keeping North America's fleets and truckers rolling safely. Bendix also develops customized Brake-School.com educational plans for fleets and industry organizations.
"For more than 60 years, Bendix braking experts have defined the standard of excellence in education for the commercial vehicle industry," says Barbara Gould, Bendix director of corporate communications. "Through Brake-School.com, we're proud to maintain that legacy and support the individuals and teams who help keep today's highly advanced commercial vehicles on the road and in safe operating condition."
[RELATED: Bendix announces 2023 technical training schedule, opens registration]
Bendix says free registration grants access to a wide-ranging curriculum covering the full spectrum of braking and active vehicle safety system products and topics. The team at Bendix has developed courses addressing general product features and operation, plus troubleshooting, diagnostics, and maintenance best practices, tackling the latest technologies as well as basic foundational components. The two most recent additions cover active steering and properly cutting a pushrod for a spring brake chamber, the company says.
Gould adds one of the keys to the program's success has been the ongoing communication between the Bendix sales team and the company's customers.
"Brake-School.com curriculum is the byproduct of direct requests from our fleet, OE, and aftermarket customers, along with insights and trends identified by our sales and marketing team," she says. "We listen carefully and respond to the needs of our customers, developing educational programs to support them in the drive for vehicle service efficiency, technology operational awareness, and lower total cost of ownership (TCO)."
Bendix says its online curriculum currently features courses on:
Air disc brakes
Air dryers
Bendix

ACom PRO diagnostic tools
Compressors
Electronic safety systems (including side object detection, lane departure warning, tire pressure monitoring, stability, and the Bendix Wingman family of collision mitigation technologies)
Foundation drum brakes
Highway safety
Reduced Stopping Distance (RSD)
Slack adjusters
Steering gears
Trailer safety systems
Valves
Additionally, beyond its more than 100 courses, Bendix says the site also offers a comprehensive air brake education course from the team that developed the in-person Bendix Brake School program.