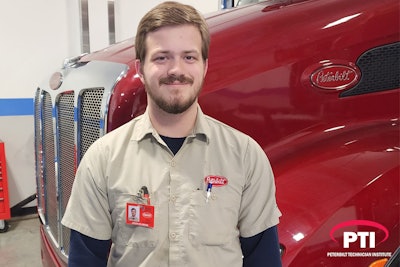 The Peterbilt Technician Institute (PTI) recently recognized its 1,000th graduate during the graduation ceremony at its Lisle, Ill., campus. Since its creation in 2013, PTI has been a strategic initiative within Peterbilt with the goal of training highly qualified service technicians to be employed at any of the company's 420+ locations.
The PTI program runs for 12 weeks. Students earn Peterbilt-specific certifications to maintain, diagnose and repair Peterbilt vehicles and Paccar engines.
Jason Neumann, the 1,000th graduate, came to the program following his completion of the Universal Technical Institute (UTI) diesel technician training program at UTI-Lisle. Neumann is a U.S. Army veteran who worked on diesel vehicles during his service and has already received an employment offer from Peterbilt dealer JX Enterprises, at its Green Bay, Wisconsin location.
"Peterbilt has always been my favorite truck brand. Having the opportunity to receive Peterbilt-specific training and earn valuable certifications to start my career was exciting. I'm looking forward to learning and growing as a tech with my new employer, JX Enterprises, and someday managing a dealership," says Neumann.
PTI's custom-designed curriculum and focus on developing work-ready skills have contributed to its rapid growth. PTI has campus locations in Lisle, Irving, Texas, and Nashville, Tenn.
"We're proud to recognize our 1,000th graduate. The PTI program continues to create successful career paths and facilitate employment for hundreds of students every year across our three locations," says Casey Spadafina, Peterbilt's Technician program manager. "Our dealerships are incredibly motivated to support the program to recruit high-quality technicians for their operations."
"We have had outstanding success with many recruits from the PTI program," adds Hannah Freeman, director of continuous improvement, JX Enterprises "qualified techs directly contribute to our growth by delivering quality work that increases customer satisfaction. We plan to continue hiring PTI graduates for all our locations."
Peterbilt is committed to doubling the number of technicians in its dealer network by the end of 2027, the company says.