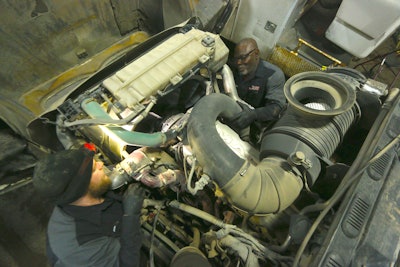 JE-CO co-owner Michael Schwarz wanted a change.
He was a Java software engineer who worked at a consulting firm, then in the telecom industry and management and consulting. For his new venture, he wanted out of corporate America. He and partner Austin White were looking to buy a service-oriented business.
"Most of these are run by founders that probably had an individual contributor role at some point," Schwarz says. "We knew they were not businessmen and we knew we could offer something to these guys." One of the first things they learned is some of these founders aren't really ready to sell. A deal on a home restoration business fell through, opening the door for purchasing JE-CO Truck & Trailer, a diesel shop in Denver, instead.


A Change or Two
JE-CO's previous owner was the founder of the business. Schwarz says he was very, very involved in the day-to-day execution of the business. Emphasis on the second very.
"He yelled at people and threatened people to get stuff done," Schwarz says. "What we've learned through the process is because of his personality and way of management, he was really restricted to certain kinds of employees. It was like a scene out of that movie 'Over the Top.' All of the characters in that movie worked here."
Schwarz and White bought JE-CO in 2019 and immediately started doing things differently.
"We let people flourish," Schwarz says. They lost some employees and retrained some more. And now?
"We are now the premier brand in the state of Colorado," Schwarz says. "We're far from perfect; we make mistakes every day. But we make it right for people and provide a very large breadth of service you can't get anywhere else."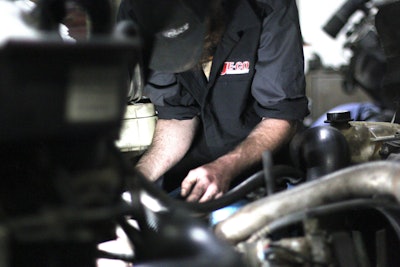 Building a Better Tech
Early on, Schwarz realized what most shop owners already know. Good help is hard to find.
"We recognized recruiting as an existential threat," Schwarz says. "We're open to creative and dramatic ways to recruit people."
[RELATED: Need to hire a new tech? The talent pond 'is bigger than you think']
Enter Ian Matje.
Matje, a third-generation mechanic, has been in the automotive and diesel fields for about 20 years. When he met the JE-CO team, he was teaching diesel technology in the Adams County school district, just north of JE-CO's shop. He helped build the diesel program from scratch.
He started with two first-year classes of about 40-50 students to a three-year program with two full-time staff members that pushes past the end of the school day until 5:30 p.m.
White and Schwarz, looking for techs, reached out to Matje. White ended up joining the school's advisory committee.
"He hopped in harder than anyone else had in the last nine years of the program," Matje says, attributing a lot of the growth in the program to JE-CO's involvement.
Interns from Matje's classes worked in JE-CO's shop, making upwards of $20 an hour while still in school. After graduation, Matje says the internship program has a 100% retention rate.
Every one of those students found a job.
"It's the flagship (program) of the state," Matje says of Adams County's efforts, offering, in addition to diesel technology, trade programs in automotive repair, collision repair, computer science, graphic design, certified nursing assistantship, video production, concepts of engineering, teacher cadet, culinary arts, construction technology, welding, law enforcement, fire science, emergency medicine, crime scene investigation, vet tech and sports medicine.
Furthermore, when the students graduate, they already have some college credit under their belt.
"It's pretty damn cool," Schwarz says. And was a golden opportunity for JE-CO.
White called Matje one day and said the shop had a truck they just couldn't get running.
"It was kind of hacked together," Matje says, with an aftermarket aftertreatment system tweaked for California standards. "It would be alright for a little while, then kind of fall on its face."
White asked if the students could take a look at it since JE-CO's techs were stumped.
As soon as Matje started the truck in his school shop, he knew what was wrong. That was his 20 years of experience. "I had a lot of 7.3 stupidity in my life," Matje says, referring to the 7.3-liter diesel truck.
He formulated his next period's lesson plan around the truck, letting his students do a live diagnosis, finding the problem (a clogged filter in a delaminating fuel tank) and getting the truck running all before the bell rang.
"Having a partner that's willing to do those kinds of things, that's where the students go, 'They trust us to work on their equipment or show us these things,'" Matje says. These things get students' attention, and it makes them trust JE-CO when it's time to look for a job. "We can set them up for success so they don't fall off somewhere along the way and don't squander their talents."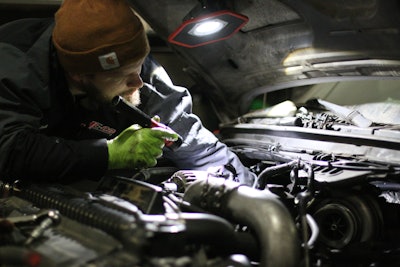 It Starts Early
Matje says the school district starts early reaching out to students in sixth and seventh grade. In eighth grade, every student in the district is required to come through and tour the trades programs. He says the district wanted the students to know a four-year degree wasn't their only option and they wanted to make sure to reach the students that didn't want to attend a traditional college.
"Let's figure it out before you're a contributing member of society and have no choice," Matje says.
As Adams County's program was ramping up, Matje started looking for his next step. He'd spent his summers working for JE-CO, supplementing his teacher's salary and keeping his technician skills sharp.
"As a teacher, there's not a lot of opportunity to stay involved with the technology," Matje says. "And it's the students that suffer."
Schwarz says JE-CO wanted Matje to stay put, but soon realized that if he was going to leave anyway, he needed to come there. Matje jumped at the opportunity.
"As a professional tech for the last 20 years, I've worked a lot of places and seen a lot of horrible management, and this is the exact opposite of that," he says.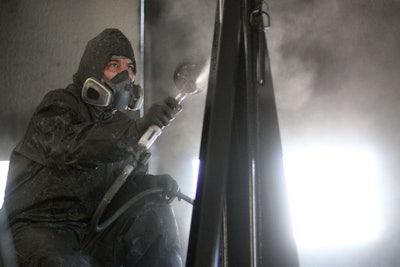 Graduation
Now Matje is JE-CO's director of training and development.
His role is two-fold. To stay on top of the industry, Matje does some of the shop's higher-level diagnostics work. That puts him on the shop floor, where he also builds customized learning plans for all of JE-Co's techs, intending to develop them professionally and personally into A-level techs and leaders in the industry.
"It's an immediate enactment of change and growth," Matje says, in contrast to the average shop trainer, sitting in a classroom and lecturing technicians on a rotating basis. "That type of role, for this industry specifically, is all wrong."
[RELATED: Flat-rate, hourly or in between? How you pay your techs depends on your techs]
Because the shop's techs see Matje on the floor, doing the work, he says they aren't afraid to approach him and ask for help.
"It's the ability to be on the floor with the technicians, on top of being in the trade and figuring out what's coming down the line and what these technicians need to know," Matje says.
Schwarz calls Matje an investment.
"He helps reduce the cost to us and increase customer satisfaction and speed up the repair process," Schwarz says. "He increases the quality of the work because he's there, catching nonconformist approaches to doing standard repairs."
[RELATED: The impact your culture has on your job openings]
Which is a really nice way of saying Matje keeps the shop on the straight and narrow.
"We have a long road ahead associated with that, but I feel really good about the path we're going to take."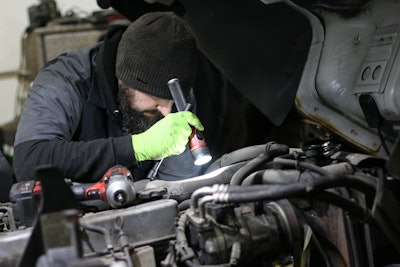 Scalability
Schwarz admits not every shop is a JE-CO, running 20 bays and two shifts, plus mobile repair (and, recently, fleet management). But there are things every shop can do.
He suggests finding free training resources from OEMs and suppliers, or partnering with other shops to bring in experts to train the entire staff.
"If they're lucky enough to have a really good A (level) tech" Matje says, qualifying it by saying not all mechanics are good teachers, "have apprenticeships. That's a good way to get someone who's not quite there, better."
And know your technicians.
"If all your guys know how to do wheel ends, don't bring in a wheel end guy," Matje says. Get to know them better and effect real change with their training.
JE-CO is scaling their business up, too.
Schwarz and White are planning a rebrand, changing the name to some form of Iron Buffalo and expanding to a new location in Denver.
"A big reason for that is recruiting," Schwarz says. "A big issue for attracting the talent we want is the facility we have."
They're also opening a new mobile service in Montana that they hope will eventually become a brick-and-mortar location, and planning for three more locations in Colorado.
Schwarz says he recently got a call from one of the company's larger clients asking them to take over managing their entire fleet, a service not presently on JE-CO's menu. That call was on a Wednesday and JE-CO took over on Monday.
"We asked them, why did they call us," Schwarz says. "And we hear this a lot. They said, 'We called around and everyone told us to call you.'"