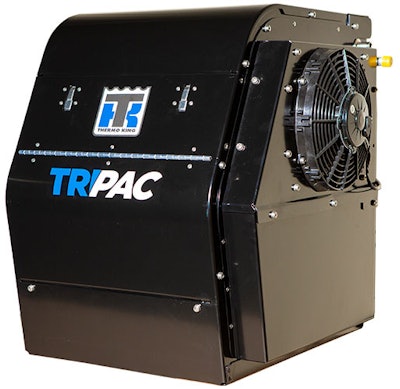 Thermo King introduced a third-generation of the TriPac auxiliary power unit.
This TriPac APU comes in two models for flexibility in emissions regulations. The first model is a 49-state EPA Tier 4-compliant solution for aftermarket installations. The second includes a new aftertreatment device that is 50-state compliance with the California Air Resource Board and meets EPA Tier 4 compliance for new OEM or aftermarket installations.
[RELATED: Thermo King introducing 24-hour roadside assistance solution]
"The progression of our TriPac APU solves many challenges that fleets face today because it helps maximize comfort for drivers while also increasing the fleet's return on investment and addresses emission regulations and connectivity," says Charlene Vance, APU portfolio leader for Thermo King Americas. "In fact, with increased fuel costs and a focus on reduced emissions, APUs are being utilized in more than just Class 8 sleeper cabs and gaining popularity in adjacent markets such as large service vehicles and on heavy construction equipment such as cranes."
Thermo King says the TriPac consumes about 75% less fuel per hour. That equates to 2,500 gallons of fuel each year, the company says.
The units also include telematics capabilities. Telematics provides the data needed to clear line of sight to the unit's run hours, cabin temperatures and fuel tax reporting. Real-time updates, alarms and maintenance reminders help ensure the APU runs smoothly. The unit also has an updated controller and in-cab digital user interface, giving drivers greater control over their comfort and APU operations with large cabin temperature readings, function icons and toggling menus.