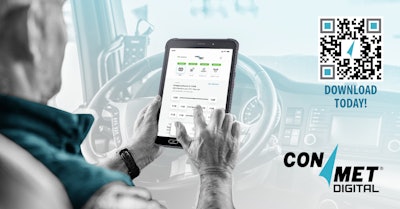 ConMet has released its Digital Driver app, now available for download for iOS and Android, as part of its telematics portfolio of solutions. Drivers are key to fleet success; empowering drivers brings the strength of data to the road. ConMet says with its new app, drivers will have access to real-time telematics data, enabling drivers to react quickly to abnormal component health and allowing fleets faster decision making.
"I am excited about the launch of the ConMet Digital Driver app, a highly anticipated addition to our portfolio. Making real-time vehicle insights available to drivers helps ensure that each trip starts efficiently and goes smoothly. Issues can be acted upon right away, saving thousands in costs that could multiply if necessary maintenance needs go unnoticed," says Paul Washicko, vice president and general manager of ConMet Digital.
Thanks to its simple, user-friendly interface, the app helps drivers and fleet service teams get the most out of telematics data. Data-science driven algorithms produce vehicle health insights that save time and money. Namely, by detecting potential problems early, fleet service teams and drivers can take action to avoid exponential costs that can pile up if repair needs are ignored. For users, it's easy to access and interpret updates in real-time. No more worrying about misplaced papers or outdated spreadsheets, the company says.
ConMet adds the Digital Driver app goes beyond providing information — it helps think through what the information means and what are the best actions to take. As part of the ConMet Digital integrated system, the app works together with the online dashboard to create a fleet-wide experience. Maintenance and service teams see warnings at the same time as the driver, which means they can work together to accomplish the same goal. Drivers can be proactive about alerts and communicate with the service team. Together, the company says this creates an added level of security and confidence for a smooth trip every time.
The ConMet Digital Driver app provides a 360-degree experience through:
Easy asset selection

Pre-trip inspection
Real-time alerts during the trip
Before the trip begins, the ConMet Digital Driver app pre-trip view provides highly accurate asset status across all installed sensors. This includes time-saving elements such as individual tire PSI. As a result, drivers can take action on any anomalies beforehand, saving time by avoiding unnecessary stops. During the trip, the app's on-the-road view provides real-time in-cab asset health alerts. The driver can focus on the road and the app alerts the driver when attention is needed.
"Interpreting telematics data can be challenging, which is why we created the ConMet Digital Driver app. Overall, increased visibility and coordinated alerts keep the fleet maintenance team and the drivers in sync — smoother communication increases efficiency and reliability," adds Isaac Otto, product manager.