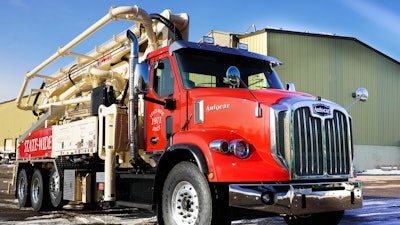 Autocar Truck has released its first conventional concrete pump truck, the DC-64P, custom-engineered for Columbus, Ohio-based State-Wide Concrete Pumping Inc.
Built on an Autocar Class 8 conventional DC-64 chassis, this first DC-64P is upfitted with a Schwing America 38-meter boom pump.
The DC-64P is the newest addition to Autocar Truck's DC series trucks, built to perform in any vocation or application. The company says the severe-duty conventional DC-64P completes its offerings for concrete fleets and serves in addition to the popular Autocar Truck's cabover ACX pump trucks.
"At Autocar, we custom-engineer our trucks to fit our customer's exact needs," says Eric Schwartz, president, Autocar Industries. "State-Wide specializes in first-hand proficiency with modern, cutting edge techniques for a quality result, making this the perfect partner to work with to deliver our first-ever DC series pump truck."
The DC series cab offers customers a design that provides exceptional productivity and durability, Autocar says. Built from a combination of steel, meticulously chosen components and reinforced with aluminum corner castings, the company says the cab is built to withstand the toughest conditions. The unique raked windshield and rounded corner windows provide exceptional 325-degree visibility for the best in class viewing area.
"With all the great American concrete boom pump manufacturers we've come to know and work with over the last decade-plus, the legend of the DC-64 is ready to serve the concrete pump market," says Brian Boles, commercial general manager, specialty vehicles, Autocar.
"Pairing the benefits of our DC conventional chassis with the Schwing boom pump and custom-engineering gives State-Wide the exact tool they need to do the job and best serve their customers."
The State-Wide DC-64P is custom-engineered with a Schwing America 38-meter boom pump that provides flexibility to set-up in areas without impeding traffic while allowing their booms' full reach off one side of the chassis. Autocar says the pump uses 915 degrees of boom articulation on the working side of the five-section boom. Additionally, it features vector controls, a rock valve, and Schwing's exclusive Super X Outriggers that set-up fast and provides a compact and stable platform for pumping.