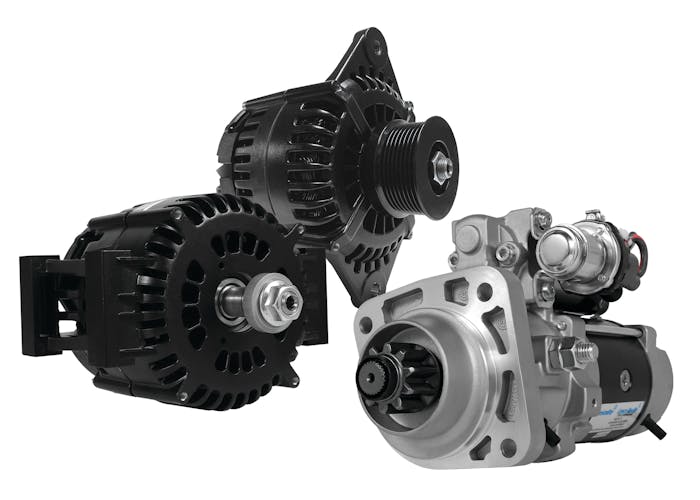 Prestolite has introduced a complete line of Leece-Neville Heavy Duty Systems rotating electric units that are engineered to satisfy the unique requirements of work truck applications.
Prestolite says its innovative Leece-Neville IdlePro alternators provide industry-leading output for vehicles that make dozens of stops and run additional systems that place extra loads on the battery. These premium technology alternators help ensure that batteries fully recover between stops, even when the vehicle never gets back up to full speed. IdlePro alternators are an ideal solution for applications like highway service vehicles, delivery box trucks, snow plows, utility maintenance vehicles, dump trucks, refuse haulers and more, the company says.
Additionally, the Leece-Neville PowerPro Extreme 5 starter integrates the latest technologies in a lightweight package. The company says it meets major OE engine manufacturer testing specifications, ensuring a simplified preventative maintenance program and a significant increase in vehicle uptime, which is an important benefit for trucks that are often on call 24/7.
 "We're proud of our decades-long history of supplying work trucks with the reliable power they need to get their jobs done efficiently," says Jonathan Smith, assistant director of sales and marketing, Prestolite. "Whether it's starting up a plow on a frigid winter day or cooling a delivery truck's cab in the hot summer months, our starters and alternators are built to maximize performance and minimize maintenance." 
Each qualifying IdlePro alternator and PowerPro Extreme 5 starter is backed by the Prestolite Power Promise. Prestolite says this industry-best warranty provides comprehensive coverage for truck applications, including a three-year/unlimited mileage warranty for alternators and a two-year/unlimited mileage warranty for starters, and an extended list of available qualifying failure claims.