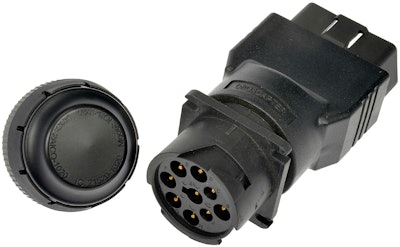 Dorman HD Solutions introduces its Diesel Decoder diagnostic tool.
According to the company, the scan tool offers "dealer-level heavy-duty diagnostics" and is compatible with all North American heavy-duty truck makes. Dorman says Diesel Decoder is from Diesel Laptops, and is a powerful, one-of-a-kind, diagnostic scan tool that accurately delivers detailed information to a smartphone for all heavy-duty truck makes, without the need for expensive code scanning hardware.
The company says features include:
Detect all true fault codes.
Get instant access to the Diesel Laptops repair library.
Plan maintenance intervals using engine operating hours and more.
Generate trip reports that can be printed and shared.
Detect and store comprehensive truck specifications.
All for a fraction of the cost of other scan tools.
And Diesel Decoder is just one of many new products added to Dorman's heavy-duty product catalog this month. Other featured components include the extension of International oil pan line and a door handle for 1981 to 2006 Mack trucks.