SAF-Holland introduced its CBXA AeroBeam Series of fixed frame suspensions during a virtual press conference Wednesday.
Bill Hicks, SAF-Holland product manager, trailer suspension and axle systems, says the CBXA AeroBeam Series is the lightest weight top mount trailer air suspension in the industry. The new series includes 23,000 lb., 25,000 lb., and 30,000 lb. capacity models, all of which are designed with an optimal balance of strength and weight to stand up to the rigorous demands of the specialty trailer market.
The CBXA AeroBeam Series will offer fleet customers a weight savings of 62 lb. per axle when spec'ing a super lightweight disc brake wheel-end package, an "ideal solution" for carriers focused on weight savings, says Hicks. The lightweight cast steel trailing arm beam also boasts durability while providing low overall system weight.
The CBXA series features an Integral shock absorber designed to improve ride performance and a pivot connection tension control bolt to maintain proper clamp force, eliminate the need to routinely re-torque connections and improve suspension life. The constant clamp force design prevents bushing and frame brackets from wearing out, avoiding premature tire wear.
Hicks says the CBXA series also will make maintaining axle adjustment quick and easy without disassembly or replacement parts. Its accurate alignment capabilities enable more precise tire tracking settings, resulting in reduced tire wear, the company says.
The CBXA AeroBeam features a 5.75-in., diameter axle that is 19 percent more rigid than competitive axles, which SAF-Holland says greatly reduces axle deflection to improve tire life. Offered with frame bracket options for weld-on, weld-on with wing, bolt-on, stainless steel weld-on, and tapered top weld-on configurations to meet any trailer chassis design.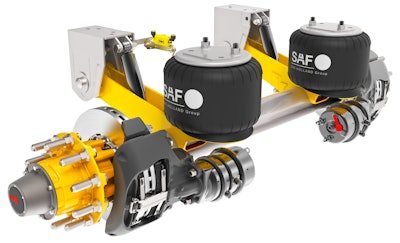 "Our commitment is to design and develop products that better serve our fleet customers with leading technology," says Hicks. "The lightweight CBXA AeroBeam provides features that deliver measurable benefits for improved efficiency and superior performance for tank, platform, and specialty trailer applications."
Hicks says production is imminent on the new lines, and the company will begin accepting orders for the CBXA series in May. As the CBXA series will replace SAF-Holland's existing CBX line, Hicks estimates it will be 12 to 24 months before the CBXA fully replaces the CBX series in the marketplace.
SAF-Holland says the CBXA series also is available with the optional P89 Series air disc brakes and the company's TirePilot Plus program. The P89 Plus air disc brakes come with its SAF INTEGRAL rotor/hub and premium sealed bearings and a seven-year warranty, and the P89 come with a five-year warranty.