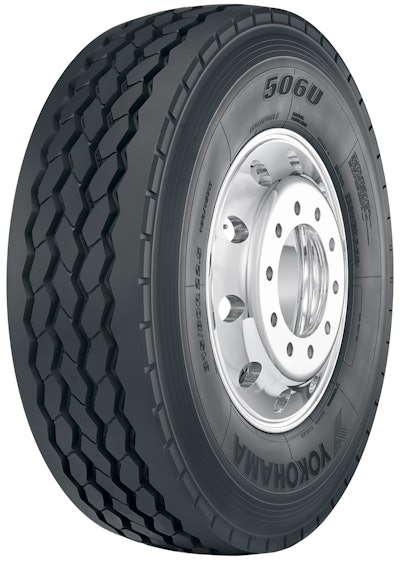 Yokohama Tire's new all-position waste and sanitation tire, the 506U, offers the extreme durability and tread life fleets depend on the company says.
"The 506U delivers longer tread life, added durability and reduced operating costs for urban sanitation trucks and on/off-highway operations," says Tom Clauer, Yokohama senior manager of commercial product planning. "It's specially designed for severe service vehicle operations that require a high load-carrying capacity per tire."
Yokohama says other benefits of the 506U include:
Enhanced durability: The 506U's new wider tread pattern — engineered for the demanding sanitation industry — incorporates a wide outside rib to resist tearing. Additionally, rock shield platforms throughout the center grooves reduce stone and debris penetration for improved casing life, durability and retreadability. Plus, the 506U's extra-thick sidewall helps prevent damage from curbs and potholes.
Longer tread life: A new advanced tread compound resists scrubbing, cutting and chipping for added tread life.
Premium casing: The 506U is highly retreadable. Its durable construction assures maximum retreadability and it also carries an industry leading six-year unlimited retread casing warranty.
Added traction: Zigzag circumferential grooves enhance water evacuation, providing extra traction throughout the original tread life.
The 506U, which replaces the MY627W Spec-2, is now available in a 315/80R22.5.