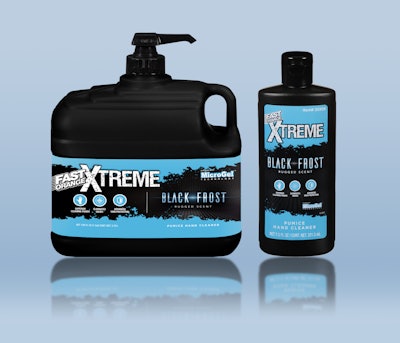 Permatex, the innovator of Fast Orange, has unveiled the "freshest" scented Fast Orange hand cleaner to date. Fast Orange Xtreme Black Frost is a professional strength hand cleaner that features a new, invigorating scent that leaves hands with a "shower-fresh" fragrance, even after hours in the garage, according to an announcement.
Infused with powerful odor neutralizers, Fast Orange Xtreme Black Frost works fast to eliminate gasoline, oil and other common odors, while its pumice formulation easily removes grease, grime, tar, adhesives, asphalt, carbon, epoxies, tile cement, paint, ink and more, the company says.
In addition to excellent cleaning and odor-removing power, Fast Orange Xtreme Black Frost also delivers advanced skin protection to keep hands from drying and chapping. The formula features premium skin conditioners, including aloe vera, glycerin, lanolin, vitamin E and jojoba oil.
"Fast Orange fans have always loved our hand cleaners for the excellent cleaning power and those trademark scents," says Permatex Director of Marketing Dan Clarke. "But now, our Fast Orange Xtreme Black Frost delivers a fresh, long-lasting fragrance that makes you feel as if you just left the shower and less like you just left the garage."
Permatex Fast Orange Xtreme Black Frost is available in a 7.5-ounce bottle (P/N 25308) and a one-gallon pump (P/N 25317).