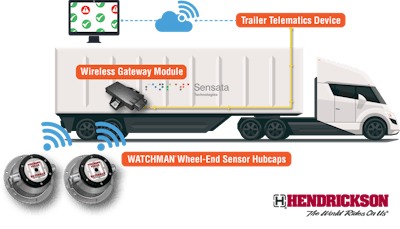 Hendrickson Trailer Commercial Vehicle Systems has moved forward with launch plans for its WATCHMAN wheel-end sensor technology for trailers that operate on the vehicle area network developed by Sensata Technologies.
The initial product offering will include trailer tire pressure and wheel-end temperature data that is communicated to the fleet via the trailer telematics system.
Hendrickson worked with the Society of Automotive Engineers to use industry standards according to established J1939 protocol, for the communication of data and fault codes for trailer wheel-end information.
"This common platform allows Hendrickson's WATCHMAN wheel-end sensor to be used by OEMs to provide crucial trailer data to their customers," says Omar Fernandez, director of marketing at Hendrickson Trailer Commercial Vehicle Systems.
Tire pressure monitoring, coupled with the inflating, relieving, and equalizing capabilities of TIREMAAX PRO and PRO-LB, helps fleets minimize tire wear and maximize fuel economy by managing trailer tire pressures. Hendrickson says the WATCHMAN system has been uniquely designed to seamlessly integrate into TIREMAAX. Early warnings of low tire pressure or leakage and/or elevated temperatures can help minimize the cost of repairs and maintenance of crucial wheel-end components.
The hubcap-mounted, battery-powered wheel-end sensors transmit wireless RF signals to the gateway module, collecting the data and acting as the trailer's communication hub, Hendrickson says. The information will be transmitted from the gateway module to the trailer telematics device for transmission to the fleet's back office.
Hendrickson also is working with industry-leading telematics providers to integrate data from the WATCHMAN wheel-end sensor into their telematic solutions, to provide timely and actionable data for enhanced fleet efficiency and uptime.WATCHMAN wheel-end sensor technology will be an available option on TIREMAAX PRO and PRO-LB tire pressure control systems. It is scheduled to launch in early 2022, the company says.