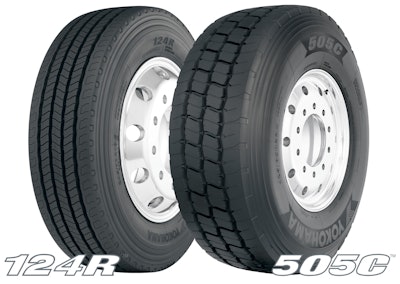 Yokohama Tire has expanded its commercial lineup again with the release of the 124R and 505C all-position tires.
According to Yokohama, the new tires are now available in the U.S. and meet the industry's required performance criteria for severe snow service. They also carry the three-peak mountain snowflake symbol on the sidewall.
The 124R radial tire is designed to keep regional pick-up and delivery fleets moving all year long, according to Tom Clauer, Yokohama's senior manager of commercial product planning. The all-season tire comes in nine sizes, ranging from 17.5 to 22.5. in.
[RELATED: Yokohama Tire announces price increases]
"The 124R is built for lasting value," says Clauer. "It delivers fleets a boost to their bottom line with longer original tread life and year-round performance. Plus, the 124R carries a six-year unlimited retread casing warranty on all 17.5-in., and 19.5-in., sizes and a seven-year warranty on all 22.5-in., sizes."
Clauer says the 505C is engineered to keep on/off-highway trucks working on the job and is offered in three sizes (385/65R/22.5, 425/65R/22.5 and 445/65R/22.5).
"More traction, more uptime. That's what the 505C is all about – it's built to last," he says. "It provides fleets the longevity and durability needed to lift their profit margins." The 505C carries a six-year three retread casing warranty, the company adds.