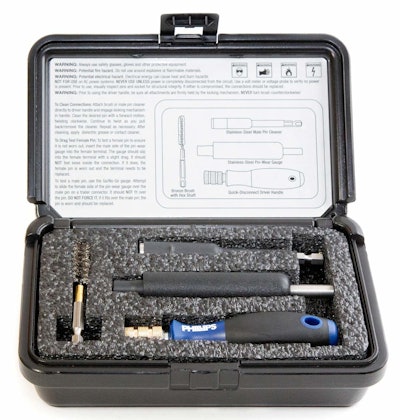 Phillips Industries has introduced a new dual pole maintenance kit to remove contaminants and corrosion from liftgate sockets and plugs to help prevent avoidable downtime and extend the life of the liftgate connections.
Liftgate electrical systems are no stranger to the effects of corrosion. Moisture and contaminants can enter the electrical system causing corrosion that restricts the direct current and interrupts the charging process. The liftgate system carries a much larger current/amperage, which creates heat. When heat and corrosion mix, there is the potential for a thermal event.
The new dual pole maintenance kit from Phillips for SAE J3082 connections comes with the tools necessary to remove built-up corrosion and identify poor contact due to pin degradation. A bronze cleaning brush designed for plugs and a stainless-steel pin cleaner for sockets effectively and quickly removes corrosion. Both attach to the included quick change driver handle.
The stainless-steel pin cleaner for sockets also can be installed on a low-speed drill. A stainless-steel pin-wear gauge is included to help identify worn out terminals. One side of the tool is used to perform drag tests on the female plug pins and the other side is designed to test socket pins for degradation.
The entire kit comes stored in a sturdy black plastic case with molded interior foam to secure and organize kit components. Easy-to-follow instructions are attached to the inside lid.
The new dual pole maintenance kit (Part # 4-123) is available from Phillips authorized dealers throughout the U.S. and Canada.