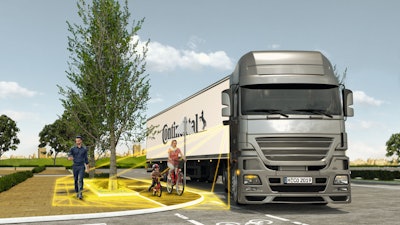 Continental recently has announced several new products, including turn assist, advanced surround view, wiper blades and LiDAR.
Continental, a supplier of systems, components and tires to automobile, truck and agriculture/construction equipment manufacturers, and a trusted provider of OE-engineered aftermarket parts, now offers a new technology for commercial vehicles and RVs that makes roads safer for pedestrians and cyclists by actively monitoring the vehicle's blind spots during right-hand turns, the company says.
Continental's Turn Assist makes right-hand turns safer and easier and reduces driver stress by warning the driver with audible and visual alerts when pedestrians, cyclists and other vulnerable road users are detected inside the vehicle's danger zone.
This innovative, radar-based system also delivers reliable detection in bad weather and under poor lighting conditions. It can be retrofitted on all types of buses, motor coaches, and commercial vehicles, including older vehicles, and it can also be connected to other vehicle warning systems.
The Continental Turn Assist system features a radar sensor, evaluation unit, buzzer for audible warning, steering angle sensor and a light for visual warning. The radar sensor is installed on the rear-view mirror and monitors an area up to 13 ft. to the side of the vehicle and up to 46 ft. behind it.
"Increasing the safety of vulnerable road users is an important social responsibility and could not be of more critical need in today's transportation market," says Nate Stehman, project manager, Continental's Commercial Vehicles & Services business unit. "The popularity of cycling has been on a continual rise and due to the coronavirus, more and more people are forgoing public transportation and getting on their bikes and scooters instead. An affordable, high-tech safety solution like the Continental Turn Assist System is just what drivers of commercial vehicles and RVs need to be better aware of pedestrians, cyclists, and others near their vehicle so they can corner safely."
Continental says it has extensive know-how and many years of expertise in the field of turn assist systems for trucks and passenger cars. Work has already started on the third generation of the technology. In the future, a combination of radar and camera data working with artificial intelligence will even recognize the gestures of cyclists and pedestrians, helping to protect the most vulnerable road users even more proactively.
Continental ProViu 360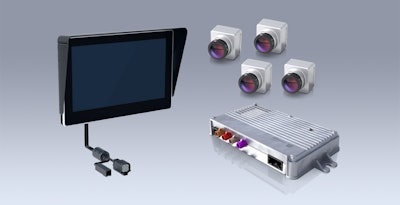 Continental just introduced the next generation of its innovative surround view camera technology. The new ProViu 360 2nd Generation Surround View System delivers a full digital capability that gives drivers even sharper and higher quality images in HD resolution so they can easily and safely monitor their entire vehicle and its surroundings at a single glance, the company says.
This new system is an ideal solution for reducing driver stress and increasing efficiency in buses, motor coaches and commercial vehicles. As a specialist in the fields of video processing, display technology and camera applications, Continental combines all its expertise into the components of the ProViu 360 to create an advanced safety solution for vehicle monitoring.
The new ProViu 360 camera system's 360-degree capability maximizes the field of view and eliminates the blind spots. Using four high-performance HD automotive cameras to cover every direction around the vehicle, ProViu 360 creates a virtual bird's eye view of the entire vehicle in real time. The enhanced HD resolution image is displayed in dynamic 3D views on a 10-in. HD touch screen monitor for easy viewing by the driver.
ProViu 360 can be used while the vehicle is in motion or standing still. It makes drivers fully aware of everything that's happening around the vehicle when loading, unloading or maneuvering through traffic. This capability gives drivers a better view of pedestrians, other vehicles, and obstacles, so that the vehicle or equipment can be operated in a much safer manner.
The Continental ProViu 360 2nd Generation Surround View System is easy to set up and simple to calibrate. It is compatible with CAN-Bus and other GPIOs and features a flexible software tool chain for easy customization to meet specific customer requirements, the company says.
Commercial-duty wiper blades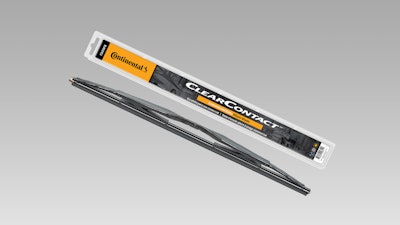 Continental expanded its ClearContact windshield wiper blade program with a new line of heavy-duty wiper blades that are specifically designed and engineered for applications on commercial trucks, RVs, transit buses and motor coaches.
Continental ClearContact Commercial Duty Wiper Blades are designed for fast and easy installation and built for maximum durability and reliability in all weather conditions. They feature a reinforced steel frame for strength and durability and precision cut natural rubber blade for consistent, edge-to-edge wiping performance and exceptionally long service life, Continental says.
With 43 wiper blade part numbers and lengths from 10 to 40 in. in the program, Continental's new line delivers a wide range of vehicle applications on Class 1-8 trucks, buses, motor coaches and Class A, B and C motorhomes. Four different wiper blade designs are available, including flat, five bar, wide saddle and hook configurations. Custom bundles are available for fleets, bus and motor coach operators and recreational vehicle dealers.
According to Lori Bachman, Continental product manager for the ClearContact Wiper Blade Program, "The Continental commercial-duty windshield wiper blade program is an excellent addition to our heavy-duty market portfolio, and easily complements our range of vehicle safety and driver comfort products for commercial vehicles and RVs. Our wiper blades are built tough with world-class construction to deliver precision performance and reliability in heavy duty service."
LiDAR sensor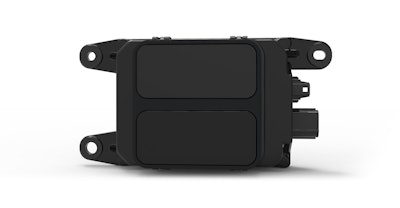 Continental also has enhanced its automated driving (AD) and environmental sensor portfolio with the release of the HFL110 solid-state 3D Flash LiDAR sensor.
The automotive grade short range sensor was released as a Series Production Product (SOP) effective Nov. 4, 2021. The HFL110 release establishes Continental's next generation of high-resolution automotive-grade LiDAR sensors in series production.
Joining the HFL110, Continental announced earlier this year its collaboration partnership with innovative MEMS-based LiDAR technology partner AEye Inc. With both the HFL110 and the under-development long range LiDAR HRL131, Continental's ever-expanding LiDAR portfolio secures its position as the leading supplier of automotive grade, high-resolution LiDAR for the next several years, the company says.
"Autonomous driving is a complex challenge in which precision sensing is a must for capturing the vehicle's environment", says Dr. Gunnar Juergens, head of LiDAR segment at Continental. "Our high-resolution LiDAR sensors are therefore key enablers for an advanced level of automation. "
Operating in adverse weather environments or road conditions where the performance of cameras and radars may be limited, Continental's IP6K9K LiDAR sensors can be used for commercial vehicles with their large mass and longer stopping distances, passenger vehicles, public transit infrastructure or rolling stock use cases. These LiDAR sensors are positioned to support a broad range of vehicle and infrastructure applications for safe automated vehicle operations, the company says.