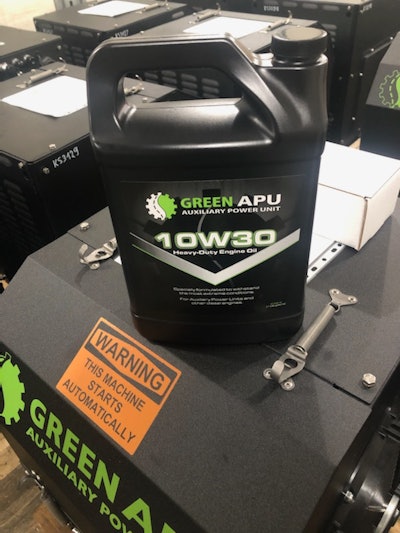 Green APU is pleased to announce the release of its own branded line of 10W-30 HD diesel engine oil. Far superior to traditional 15W-40 oil, Green APU says its product is specifically designed to be used in their auxiliary power units (APUs).
Tested in its own fleet of trucks for more than two years under the toughest conditions, Green APU's 10W-30 oil provided outstanding wear protection and durability. The product meets the latest requirements of U.S. Tier 4 and European EURO VI emission standards for diesel engines equipped with diesel particulate filters (DPF). In addition, Green APU oil exceeds the performance standards for virtually all global diesel engine manufacturers, the company says.
Formulated with synthetic-blend base stocks, advanced additive technology and friction reducing chemistry, Green APU 10W-30 oil provides superior wear protection and optimizes fuel economy. The product also delivers long lasting soot and oxidation control, which supports maximum service intervals, Green APU says.
Green APU's 10W-30 oil can be used in their own APU engines, as well as well as any competitive units available today.
The product can also be utilized in truck engines and is available at all Green APU Distribution Centers across the United States.
"We are very proud to release Green APU's 10W-30 oil to the industry" says CEO Art Gruszka. "Our company believes in testing our APU's and other products in our own equipment before we release them to the marketplace. We believe that Green APU 10W-30 diesel oil is superior to any other product available and will exceed our customers' expectations."