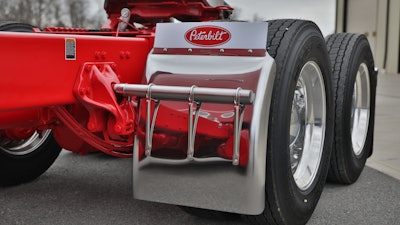 Hogebuilt has announced enhancements to one of its Peterbilt factory option quarter fenders, part number CAP108P.
The 27 in., fender will continue to be manufactured of 430 Stainless Steel with a mirror shine but now includes three half braces that have been added for additional stability. Hogebuilt says this enhancement not only improves the lifetime of the fender but adds a simple retro styling detail as well.
The part number, CAB108P, and Factory Installed Quarter Fender Data Code, 0672080 will remain the same.
Hogebuilt adds it will continue to offer its 304 Mirror Finish Stainless Steel quarter fenders as factory options as well. Part number A65-6001, its 24 in., fender, is available under Factory Installed Data Code, 0672090. The company also offers part number A65-6000, its 30 in., fender under Factory Installed Data Code, 0672200.