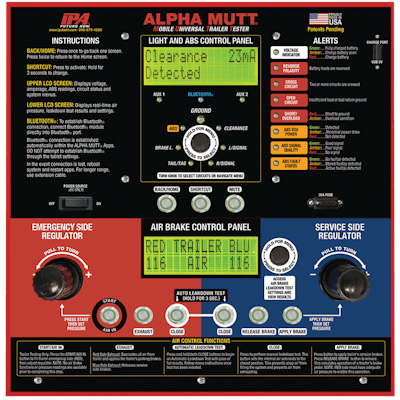 Innovative Products of America (IPA) announces the next generation of Alpha MUTT shop models with the #5710 series. Users will notice an updated and more advanced screen interface, digital air readings, additional ABS capabilities and several upgrades to the cabinet design.
"The Alpha MUTT has been very well received by the service industry, says Ian Vinci, IPA president. "We are pleased to announce this new model which incorporates several new technological upgrades that will increase efficiency and empower technicians with better diagnostic information."
Updates include: a larger processor for future expandability; two dual-line LCD screens that are backlit for reading in direct sunlight; improved air brake testing automation and reporting; new ABS alerts for quicker troubleshooting; and rear-mounted, swivel gladhand outputs, the company says.
IPA customers who already utilize the #5600 Alpha MUTT Service-Truck Model series will recognize a similar interface. The #5710 series will supersede the #5700 series.