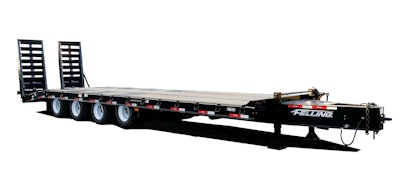 Felling Trailers Inc. introduced the Low Pro Heavy Duty trailer to its deck-over tag line. It's designed for wide-set, heavy construction equipment such as excavators and dozers.
"As equipment continues to get bigger and wider, how weight is distributed can make or break a trailer," says Felling Sales Manager Nathan Uphus. "Our LP HD series tag has been designed and engineered to accommodate equipment that has an eight-foot to eight-and-a-half-foot wide track gauge (center to center of tracks), which will concentrate the machine's weight directly over the side rails."
The LP HD series features two models: The FT-50-3 LP HD triple-axle 25-ton and hte FT-60-4 LP HD quad axle 30-ton. The triple axle comes in 24-foot, 26-foot, 28-foot and 30-foot deck lengths. The quad axle comes in 28-foot, 30-foot and 32-foot lengths. The trailers also come with either apitong or white oak decking with a six-foot-long double incline beavertail providing 12-degree and six-degree load angles. The double incline eliminates the sharp break-over point so that tracked equipment can be unloaded safely.