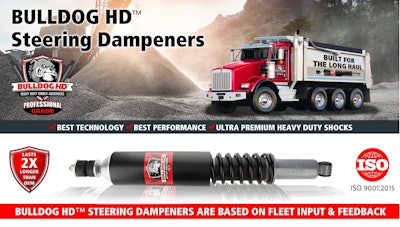 Bulldog HD, a brand of DMA Industries, introduces its new and improved steering dampener.
According to Bulldog HD, the new steering dampeners endure the most extreme abuse of any shock absorber on a commercial vehicle. Bulldog HD's design boasts a two-times extended life versus OEM rivals, the company says. The company's improved design also results in increased durability, less maintenance, better steering control, and meaningful cost savings due to fewer replacements, Bulldog HD says.
The new steering dampeners will be on display at booth 441 during HDAW 2023 next week in Grapevine, Texas.