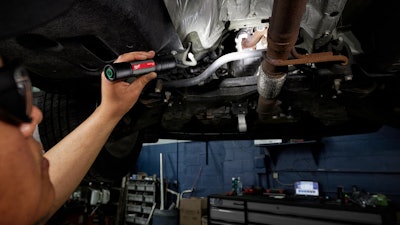 Milwaukee Tool has expanded its REDLITHIUM USB Flashlight lineup, delivering what it calls the most advanced LED technology and optical designs for a more efficient workday.
The REDLITHIUM USB 2,000 Lumen Slide Focus Flashlight Light provides users with a premium lighting solution for inspection work, allowing users to maximize productivity while adjusting to the needs of the job, the company says.
Providing faster beam control, Milwaukee says the REDLITHIUM USB 2,000 Lumen Flashlight features a slide-focusing design, allowing users to quickly and easily slide the head of the light from flood mode into spot mode. The USB-C rechargeable flashlight has a multi-functional rear power button that offers battery indication and mode selection. Featuring four output modes: low (100 lumens), medium (800 lumens), high (1,300 lumens), and a new Milwaukee Boost Mode (2,000 lumens), users can maximize the flashlight's output and run-time. With a beam distance of 200M (656 ft.), this feature enables users to identify problems during an inspection while being further way.
Milwaukee also notes the flashlight is dustproof and water resistant with an IP66 rating and can withstand a 13-ft., drops. A removable metal pocket clip allows users to adapt to the needs of their jobsite. And the REDLITHIUM USB 2,000 Lumen Slide Focus Flashlight is powered by the REDLITHIUM USB 3.0AH Battery, providing all-day run-time, more recharges, and three times faster charge time, the companay says.