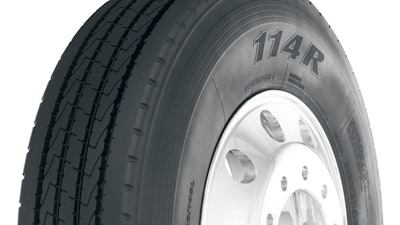 Yokohama Tire's new 114R regional haul trailer tire is designed for fleet and operators who are looking to maximize tire life in regional and spread-axle operations. The SmartWay-verified tire will be available March 1 in the U.S. in six sizes: 11R22.5, 295/75R22.5, 285/75R24.5, 11R24.5, 255/70R22.5 and 275/70R22.5.
"With its high-scrub tread compound and rounded shoulder ribs, the all-new 114R is definitely built to last," says Tom Clauer, Yokohama's senior manager of commercial product planning.
Yokohama says benefits of the 114R include:
Longer wear is achieved by round shoulder ribs which are specifically designed to resist curb damage and help reduce wear – especially in spread axle applications. Plus, the high-scrub compound is formulated to resist tread cutting and chipping without producing a negative impact on fuel efficiency.
Increased mileage is attained via the optimized tread depth that delivers maximum fuel efficiency and long-lasting service. Additionally, the sturdy rib design provides flawless tracking and improved fuel efficiency while minimizing tread wear.
Enhanced durability comes from the funnel-shaped step grooves, which prevent stones and other debris from reaching the bottom of the grooves where casing damage can occur.