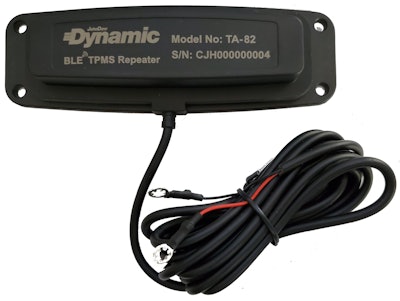 JohnDow Industries (JDI) has added TPMS (Tire Pressure Monitoring System) Retro Kit Sensors to its Dynamic division's line of products. These sensors, designed for vehicles without manufacturer- installed TPMS, provides increased passenger safety and alleviates hazardous tire-related incidents. These sensors work with virtually any air-filled tire, the company says.
Dynamic's new Retro Kit Sensors are available in External (DY-BLE-E) and Internal (DY-BLE-I) sensor options. Also available is the TPMS Repeater (DY-BLE-R) to extend the overall signal distance up to 30 feet. Both sensor options work with the easy-to-use Dynamic BLE phone app to program and assign up to 36 sensors.
JohnDow says these sensors are ideal for:
Single-, dual- and tri-axle hauling trailers
Campers, Recreational Vehicles (RVs), 4-wheelers, dirt bikes
Bicycles, scooters, side-by-sides
Heavy-Duty vehicles like dump trucks, semi-trucks, or tractors
Municipal vehicles including ambulances, fire trucks, and city/school buses
JohnDow says the External Retro Kit Sensors replace a tire's valve cap to measure tire pressure and temperature. Designed to swap out to other vehicles, these sensors are as easy to install as screwing on a valve cap. The Internal Retro Kit Sensors act as a traditional TPMS Sensor, installed inside of the tire. These TPMS sensors come with four valve color options and are ideal for boat trailers or a long-term TPMS solution, the company adds.
The Dynamic BLE TPMS app also provides options to set up multiple vehicle profiles with real-time data and alerts including fast leak, high/low-pressure, high temperature, and sensor low battery – all from a phone or tablet.
"We hear all the time about boat trailer tires or heavy-duty tires blowing out on the highway, causing – at a minimum – very hazardous conditions," says Greg Iorfida, national sales manager of the JDI Dynamic Division. "These new TPMS Retro Kit sensors provide critical pressure and temperature information that could prevent a lot of these incidents."