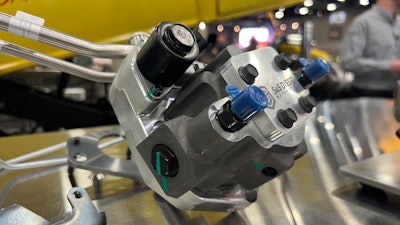 PurePower Technologies has partnered with S&S Diesel Motorsport, a leader in high-performance common-rail diesel injection and vehicle controls, to solve the high-pressure fuel pump problem associated with Ford Super Duty trucks using the 6.7L Power Stroke diesel engine.
Through this joint endeavor, the PurePower-S&S Diesel Motorsport engineering team has developed a more durable plug-and-play-replacement diesel common rail (DCR) fuel pump with OE fit and function.
As a Stanadyne company, PurePower says it used its global DCR fuel systems expertise to develop a two-piston DCR solution for the S&S Diesel Motorsport Ford 6.7L DCR pump conversion kit. It is emissions compliant and fits 2011-2019 Ford F250-F750 diesel trucks, with future compatibility plans for 2020 and beyond.
"This particular application challenge has been one that has posed significant and troublesome situations for vehicle owners for quite some time," says PurePower Technologies Managing Director Jeff Blake. "The pump conversion can save truck owners $10,000 to $15,000 in repairs - in addition to providing peace of mind by avoiding potential vehicle downtime."
The company says the two-piston DCR pump is based on a compact and modular design for easy integration, has low hydraulic and acoustical noise, features ultra-fast response times, and is biofuel and low-lubricity fuel compatible. It uses a patented eccentric drive pumping technology with pressure-lubricated cam and bushings for increased performance, efficiency, and benchmark durability.
The pump can provide up to 2,200 bar of pressure with fuel delivery of 1,250 mm3 per revolution, the company says. It also comes equipped with Stanadyne's new corrosion-resistant inlet metering valve (IMV) designed to extend DCR fuel pump life. The IMV uses high-quality corrosion-resistant components and proprietary features to prevent large debris from entering the valve, providing exceptional robustness for longevity and durability in harsh environmental conditions, the company adds.
"We are excited to be helping S&S Diesel Motorsport bring its pump conversion solution to market," says Blake. "With this plug-and-play conversion application, we are giving Ford truck owners the opportunity to perform prudent preventative maintenance on their Ford 6.7L Power Stroke diesel engines."