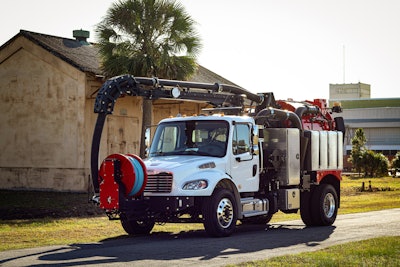 Vac-Con introduced a non-CDL Titan three-yard combination sewer cleaning truck at the 2023 Water & Wastewater Equipment, Treatment & Transport Show in Indianapolis, Indiana.
The non-CDL Titan weighs under 26,000 GVWR with full freshwater tanks and features three yards of usable capacity in the debris body. It has a positive displacement blower rated at up to 2,100 CFM at 16-inch Hg, a filtration system with a cyclone separator and final filter, a hose reel that rotates 180 degrees with a 500-foot capacity for a 3/4-inch hose, and a boom that rotates 180 degrees and extends five feet with a lifting capacity of 500 pounds.
"Vac-Con continues to meet customer requirements by innovating and expanding our product offering," says Bryce Rieger, Vac-Con's national sales manager. "The non-CDL TItan fills the gap in an evolving industry where operator skills range from beginner to expert. Anyone can drive and operate this machine, which empowers our customers with the flexibility to get the job done."