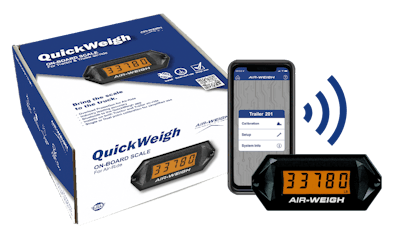 Air-Weigh, from Eugene, Oregon, announced a new PSI gauge and scale combo.
[RELATED: Air-Weigh, Fontaine Modification introduce joint partnership]
QuickWeigh is an app-driven, on-board weighing system for air-ride suspensions on tractors or trailers. It's made in the United States and can be protected by a PIN. The waterproof device also features single- and dual-point calibration and delivers results in pounds or kilos.
"I'm very excited about the release of QuickWeigh, and the feedback we've received from drivers so far is incredible. They are thrilled to be able to view weigh data on an app without ever leaving the cab and can stop wasting their time to make trips to in-ground scales," says Vice President of Sales and Marketing Steven Dwight. "What's surprising to me is how QuickWeigh has already become standards on some trailer OEMs and the number of dealers placing sizable orders this early in the release."
QuickWeigh comes with everything needed for installation: an interface cable, connectors, power cable, installation bracket, airline, brass fittings, hardware kit, zip ties, installation and user guide, a quick start guide and a warranty card. An optional ABS kit is also available.