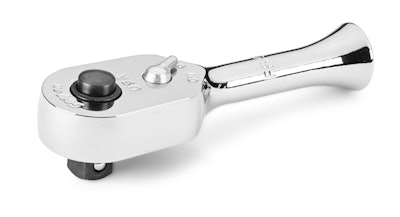 Snap-on recently advanced its hand tool offering by adding a quick-release mechanism to the already popular 1/4 and 3/8 in. drive Dual 80 Technology stubby handle ratchets.
With the new feature, Snap-on says technicians have a positive locking feature that holds sockets securely in place but easily decouples with a push of a button, even if oily from use and when working in tight places, the rugged reverse lever makes for a smooth change of direction.
The stubby handle wrenches are built to reach into the deepest, tightest places with seven teeth in contact with the gear. The 80-tooth ratchet design of the FRK80/FRKF80A and the 72-teeth design of the TRK72 and TRKF72 provide 5 of swing arc — requiring 25 percent less ratcheting arc needed to engage the next gear tooth.
Snap-on adds a contoured comfortable handle provides better control, and the sealed heads help maintain lubrication and protect against dirt and clogging in the gears. And keeping these long-lasting tools clean is easy thanks to the exterior chrome finish, the company adds.